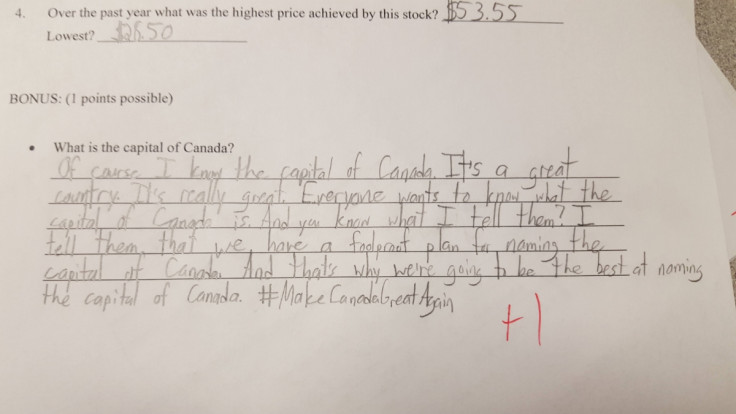 In an exam answer worthy of a politician, one Canadian child's lengthy response to the question "What is the capital of Canada?" has gone viral.
A teacher posted online the response from one of her students, who included the phrase "make Canada great again", aspects of which are surely borrowed from Donald Trump's campaign slogan, and it was shared more than 2.4 million times, Canada's City News reported.
The student wrote on the test sheet: "Of course I know the capital of Canada. It's a great country. It's really great. Everyone wants to know what the capital of Canada is.
"And do you know what I tell them? I tell them that we have a foolproof plan for naming the capital of Canada. And that's why we're going to be the best at naming the capital of Canada. #MakeCanadaGreatAgain."
The teacher reportedly shared the post, writing underneath it "This is why I teach" and snapping a picture of the answer that showed she awarded the student one point – presumably for effort – despite them not naming the capital correctly.
Posting on Reddit on 8 March, the teacher – who goes under the username Blahson – got a great response from followers, with several commenting that the student should have got more points for being politician-like.
By the way, it is Ottawa.