Apple has announced clips, a new Snapchat-like smartphone app for iPhone that lets users shoot photos and videos and add filters, captions and animations. Clips will be available as a free download from the beginning of April for the iPhone 5, iPad and iPod Touch.
Clips is a video editing app that lets users shoot short clips up to 30 minutes in length and then stitch them together into longer videos, similar to Instagram Stories and Snapchat Memories. Users can then add special effects over the top and then share their creations via social media.
Apple announced its new app on Tuesday 21 March alongside a new, more affordable iPad and a red-coloured iPhone 7.
How does Clips work?
Similar to Instagram, Clips follows the 1:1 square format and is meant to be used in portrait mode. Unlike the Facebook-owned photo app and rival platforms like Snapchat, however, Clips appears to be more an extension to Apple's standard camera app and not a social media platform as of itself. This means you can't share your creations via an in-app news feed and instead need to save them to your camera roll and send them via iMessage or services like Facebook, Instagram and YouTube.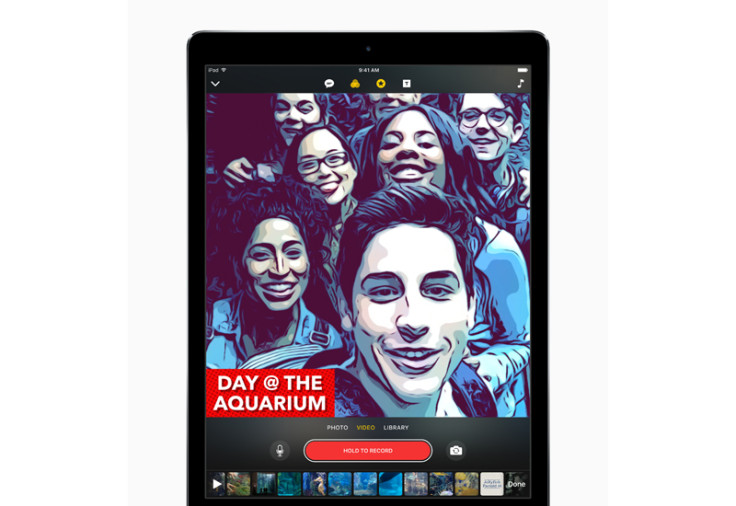 Even so, the similarities to other popular video-sharing apps are clear, and a feature Apple is calling Live Titles feels like a very conscious stab at Snapchat-like originality. Live Titles, which Apple has labelled a "breakthrough feature", uses voice recognition technology to auto-generate captions, which are added to videos in real-time as the user speaks.
"Clips gives iPhone and iPad users a new way to express themselves through video, and it's incredibly easy to use," said Susan Prescott, Apple's vice president of Apps Product Marketing. "The effects, filters and amazing new Live Titles we've designed for Clips let anyone make great-looking, easily sharable videos with just a few taps."
While Clips isn't strictly an augmented reality (AR) app, it does appear to be an attempt by Apple to generate buzz around its camera tech in the run-up to the launch of the next iPhone, which reports indicate could include some form of AR capabilities.
Apple CEO Tim Cook has repeatedly suggested that augmented reality lies somewhere in the company's future plans, although whether or not this will materialise in time for the launch of the next iPhone in September is unclear.