Snap made it clear in its stock-market debut that it sees itself as a camera company which, alongside a string of telling hires at the firm, suggests it plans to develop more hardware in the near future.
So far, the only device we've seen out of the mobile messaging start-up is Spectacles, a set of garish sunglasses designed to be used with its highly popular video messaging app. But exactly what are Spectacles, what do they do and where can you buy them? Allow us to explain.
What are Spectacles?
Snapchat Spectacles are a pair of sunglasses with a built-in camera that are made by Snap, the company behind Snapchat. While wearing them users can record video and upload it directly to the Snapchat smartphone app. And that's about it – augmented reality goggles these are not.
Spectacles feature a camera lens that offers a 115-degree field of view. To film with them, users must first pair the glasses with their smartphone using Bluetooth, then load up the Snapchat app on their smartphone.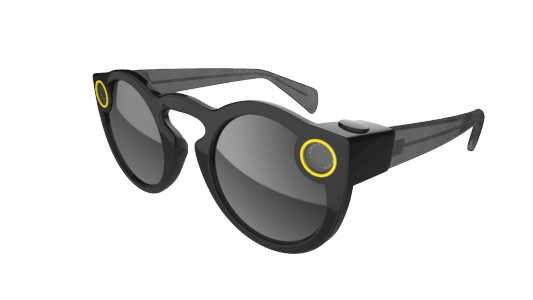 Users start a recording by pressing a button on the left-hand side of the frames. Spectacles shoot video in 10-second segments; an LED light will flash while the glasses are filming.
Videos are then automatically uploaded to the Memories section of the Snapchat app via Bluetooth (or Wi-Fi for HD videos), which can then be viewed by people you are friends with on Snapchat.
Where can I buy Spectacles?
Previously, the brightly-coloured wearables have only been available through pop-up stores or roaming 'Snapbot' vending machines or directly from Snap's official Spectacles website in the United States.
Thankfully European buyers now finally have a way of grabbing a pair of social specs too. On the 2 May, Snapbots appeared in London, Paris, Berlin, Barcelona and Venice. In addition, the Snapchat Spectacles store will also now ship across Europe.
The wearables come in three colours – black, teal (red) and coral (blue/green) – and cost $129.99 in the US and (brace yourself) £129.99 in the UK. The glasses come with a charging case, cable and cleaning cloth; there's also a one-year warrant and 30-day money back guarantee if you change your mind.
Be prepared for a wait, as shipping time has reached up to 2-4 week estimates in the past. Each household is restricted to six pairs of Spectacles, likely to discourage scalpers from buying them in bulk and selling them online at a hiked-up price.
How to buy Snapchat Spectacles in the UK
The easiest option for most is the Snapchat Spectacles' UK website. Delivery is currently estimated to be 3-5 working days (Mon - Fri).
Alternatively, if you feel like leaving the house and hunting down a Snapbot, the UK's bright yellow Spectacles dispenser is located in London right next to the London Eye tourist attraction on the South Bank of the River Thames - about ten minutes from Waterloo Station by foot.
Here's a screenshot from Google Maps to give you an idea of where to go: