US President Donald Trump is expected to scrap a programme that gives work permits to people who came to America illegally as children, according to reports.
He is due make his announcement to end the Deferred Action for Childhood Arrivals (Daca) programme tomorrow (5 September), but will give Congress up to six months to find an alternative scheme.
The president, who has been grappling with the issue for months, has been known to change his mind in the past and could still shift course, in a move first reported on the Politico website on Sunday (3 September).
The Obama administration policy protects nearly 800,000 young men and women, often called 'Dreamers', from deportation and allows them to work legally.
The White House informed House Speaker Paul Ryan of the president's decision on Sunday morning.
Ryan last week urged the president not to scrap the scheme, arguing it left many young people "in limbo".
"These are kids who know no other country, who were brought here by their parents and don't know another home," he said.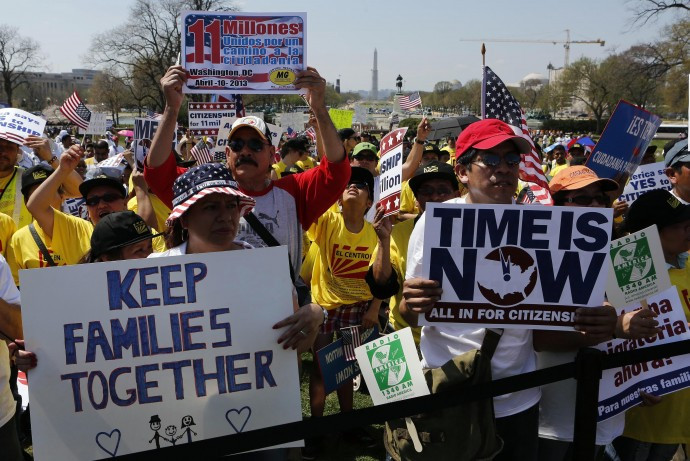 In order to qualify for Daca, applicants under the age of 30 submit personal information to the Department of Homeland Security.
They must go through an FBI background check and have a clean criminal background, and either be in school, recently graduated or have been honourably discharged from the military.
In exchange, the US government agrees to "defer" any action on their immigration status for a period of two years.
The majority of Dreamer immigrants in the US are from Mexico and other Latin American countries.
Support for Dreamers
More than 200,000 Dreamers live in California, while 100,000 are in Texas. New York, Illinois and Florida also have large populations.
The Obama administration created the DACA programme in 2012 as a stopgap to protect young immigrants from deportation as it pushed unsuccessfully for a broader immigration overhaul in Congress.
The White House Speaker is one of a growing number of Republican lawmakers and business leaders to speak out against scrapping the programme.
They included Facebook founder Mark Zuckerberg and Apple chief executive Tim Cook, who tweeted that 250 of his firm's staff were "Dreamers" and "I stand with them".
On Sunday, former Democratic presidential candidate Hillary Clinton tweeted: "Thanks to Dreamers' courage & resolve, #DACA has allowed thousands of young people to contribute to our society. We're better for it."
While former Democratic presidential hopeful Bernie Sanders tweeted today (4 September): "If Trump decides to end DACA, it will be one of the ugliest and cruellest decisions ever made by a president in our modern history."
Incredible kids
On the campaign trail Trump slammed Daca as an illegal "amnesty" and vowed to eliminate the programme on his first day he began work at the White House.
But since taking office he said in a February press conference he finds the subject "very, very tough". Trump added he intends to show "great heart" in dealing these "incredible kids".
Dreamers are a fraction of the estimated 11 million illegal immigrants in the United States, most of them Hispanic. Trump as a candidate had promised to deport all of them.
His decision will seek to placate both sides in the immigration debate at a time when the president is also grappling with North Korea's nuclear programme and Houston's recovery from Hurricane Harvey.
But it was not immediately clear how the six-month delay would work in practice and what would happen to people who currently have work permits under the programme, or whose permits expire during the six-month stretch. It also was unclear exactly what would happen if Congress failed to pass a measure by the considered deadline.
All the while, the Tump administration has continued to process applications and renew Daca work permits, to the dismay of immigration hard-liners.
House of Representatives Iowa Republican Steve King, who has called Daca unconstitutional, warned that a delay in dismantling it would amount to "Republican suicide."
"Ending DACA now gives chance 2 restore Rule of Law. Delaying so R Leadership can push Amnesty is Republican suicide," he wrote on twitter on Sunday.
Congress under presidents of both parties has been unable to pass comprehensive immigration reform.
Daca supporters argue that the people it protects are US-educated and integrated into American society, with little connection to the countries in which they are citizens. But opponents of the programme argue those that use it are illegal immigrants who take jobs from US citizens.