A vegan baker is facing a fascist backlash over a cake she made, decorated with the words "Kill Nazis."
Ashley Shotwell, from Oakland, California angered hundreds of white supremacists and neo-Nazis when she posted the photo on her Instagram account with the caption: "Order with me thru @hellaveganeats for all of your Anti Fascist Cake needs. Tag someone who would love to punch a Nazi."
The baker told SFGate that a customer had asked her to make the cake after seeing a photo of a "Resist Fascism" cake, which she designed after violent clashes between white supremacists and anti-fascism demonstrators in Charlottesville, Virginia last month.
After Shotwell shared a photo of her creation online, she started receiving negative reviews on her Facebook page and a torrent of abuse from far-right trolls.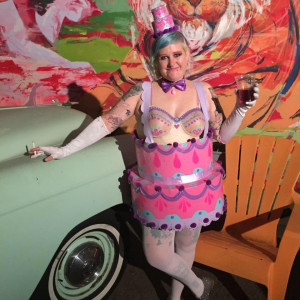 Some of the reviews claimed that Shotwell sold cakes filled with maggots. Some critics directed abuse at Shotwell herself, calling her "fat", "a communist" and a "worthless bitch."
In response to the abusive comments, Shotwell's supporters flooded her page with positive reviews, commending her for standing up to Nazis.
"Crazy and colourful, anti-fascist as hell, and vegan options. What's not to love?" one woman wrote.
Another commented: "Keep making awesome anti-Nazi cakes. You're awesome and I wish you all the best."
Shotwell said that although she strongly believes in making cakes that "take a stance against fascist ideals", she might think twice before making another "Kill Nazis" cake.
"I'd probably suggest it say 'Punch Nazis' instead," she told SFGate.