What happened to Project Free TV? Free TV streaming site moves to new domain
New site launched after original shut down.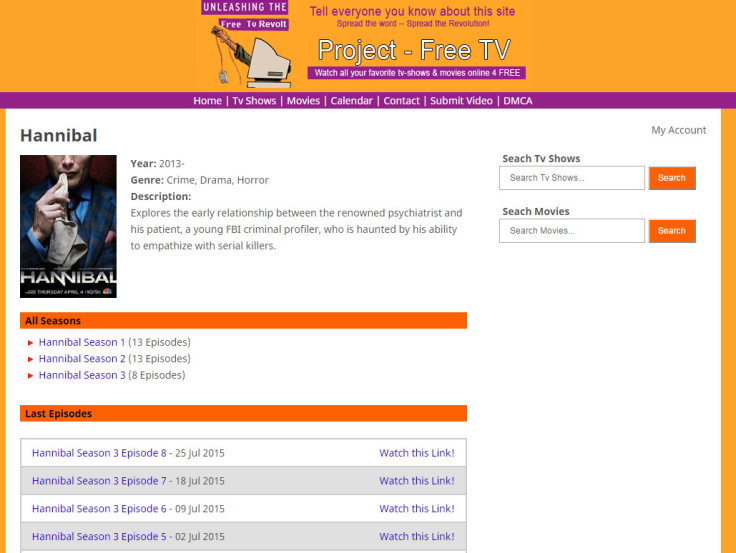 Project Free TV, one of the most famous TV show-streaming websites on the internet, mysteriously disappeared from the internet on 24 July, but the website is now back on a new domain.
Many internet users thought it was curtains for the long-running Project Free TV, as the website's usual URL www.free-tv-video-online.info routed to a webpage that was completely stripped of content or a design stylesheet and simply said "Goodbye".
However, if you Google the phrase "Project Free TV", the top result is a new URL projectfreetv.so, which carries a version of the website with links that work just fine.
What is Project Free TV?
Project Free TV is a website that links to thousands of other websites hosting copies of popular TV shows so that people can watch them online for free, and it also provides TV scheduling information.
All users have to do is log on to the website, search for a TV programme and a particular episode they wish to watch, and then they are taken to another website where the video file is hosted and streamed in a web-based video player for free.
Project Free TV is one of the oldest websites of its kind, but today there are many other websites that also offer similar services. Copyright holders frequently petition courts to get internet service providers (ISP) to block the services, and the website has been blocked in the UK since November 2013.
So why the domain name change?
A who is domain search reveals that the projectfreetv.so domain was registered on 1 July, but no one online seems to know why Project Free TV's former domain isn't working or why the switch happened.
Instead, Reddit users have been discussing alternatives that can still enable them to stream content online for free.
Unlike websites like Pirate Bay and Popcorn Time, Project Free TV doesn't maintain a blog informing users of downtimes or updates.
However, unlike many other websites hosting or linking to pirated content, Project Free TV maintains a page all about the Digital Millennium Copyright Act (DMCA) and how they can deal with any issues.
The website says that it is merely an online service provider and that it does not actively monitor or screen any content uploaded to its servers by users. Yet Project Free TV adds that it takes copyright violation very seriously and provides clear guidelines on how to submit DMCA takedown requests.
IBTimes UK has contacted Project Free TV and is waiting for a response.
© Copyright IBTimes 2023. All rights reserved.