One of the biggest mistakes women make when buying lingerie is selecting the wrong bra size, something that San Francisco based brand Third Lovewant to make a thing of the past. The brand have identified seven different breast shapes that are designed to help women buy the bra that is right for them in terms of shape as well as dimensions.
With a variety of shapes ranging from Teardrop to East-West, Third Love have illustrated the varying breast shapes on their website that women can use as a reference point for measuring their bra size themselves. Alongside their detailed drawings, the lingerie brand have also noted the most important factors to consider when buying and wearing a bra. This ranges from tightening your straps every other month, ensuring you can only slip two fingers underneath the back of your band (otherwise it is too loose) and making sure that the bra is snug on the loosest hooks when you buy it to allow for stretch with wearing.
On their website, the Third Love team state that "we realized that traditional bra sizing wasn't serving countless women whose breast sizes weren't 'standard', whatever that means. We had a new mission, and set out to design bras that would really fit real women."
So what are the shapes that we should be looking out for and what bras do Third Love suggest wearing?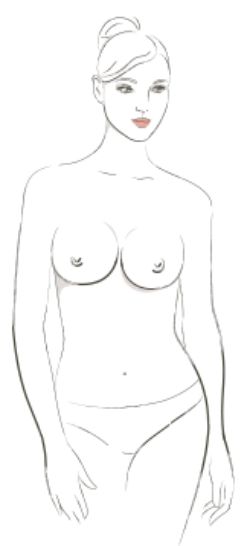 1. Round: Equally full at the top and bottom, if this shape matches you then you have a wide range of bras that you can wear including wireless, strapless, front closure, unlined and multi-way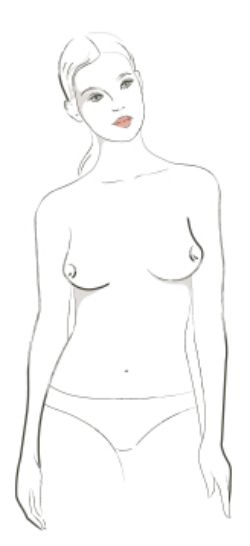 2. East West: This is a more common shape for those with smaller boobs that tend to point outwards and up. An easy one to work with and a full coverage T-shirt bra will give a more fuller, rounder shape if required. Front closure, bralettes and multiway are also an easy choice.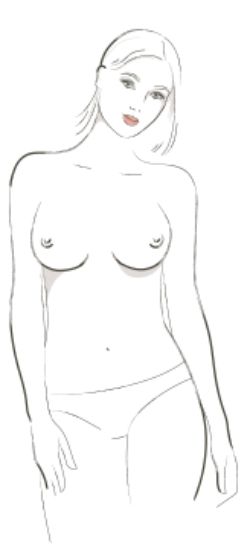 3. Side Set: this is similar to the East West but more common with a larger bust. If you're looking to push you boobs together, a plunge bra is the top choice as well as a front closure that will draw them in a little, unlined bras are also fine, although they don't have the padding that a plunge will.
Wide space between breasts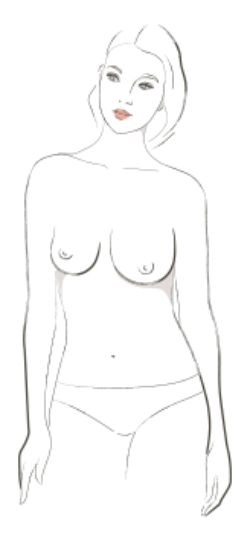 4. Asymmetric: this is probably one the most common as pretty much every woman has one breast bigger than the other, although for some this is more apparent. You can still opt for the same plunge and full coverage of any breast shape but if you select styles with removable padding you can balance out both sides.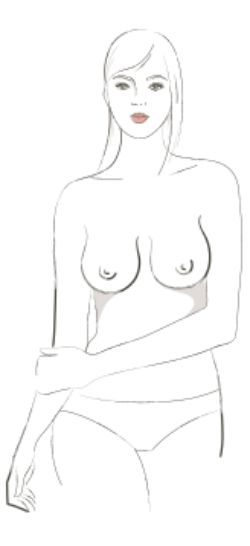 5. Bell Shape: this is for breasts that are slimmer at the top and fuller at the bottom which is common for those with a larger cup-size. Full coverage bras will bring ample support but of course there are great strapless and multiway bras that provide support under evening wear etc.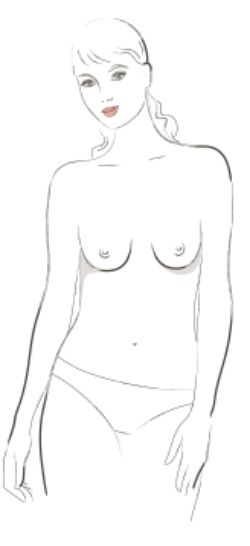 6. Slender: This shape is for breasts that are usually smaller in cup size but are also thin with the nipples pointing downward. For a little more oomph you can go straight for a plunge bra but for everyway, smaller size means you can happily wear any bralette, wireless or unlined style easily. Although if you want to have a rounder shape, select a T-shirt bra with padding.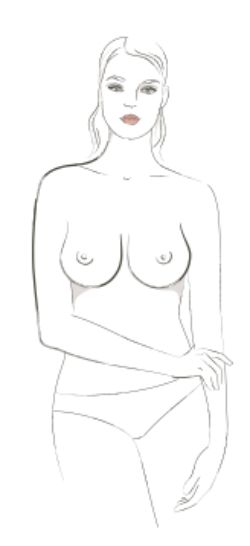 7. Tear Drop: these breasts are slightly less full at the top and between round and bell-shape and super easy to measure for any bra. Unlined styles are an easy win as you don't need padding to create extra shape as well as front closure, bralettes, multi-way and everything in between.
Aside from what they refer to as their Breast Directory, Third Love's primary aim is to allow women to measure their own bra size carefully and accurately at home and do away with the nightmare of having a stranger arching around you with a measuring tape. The brand have developed an app that allows bra shoppers to do just that, as well as throwing in game changing options like half sizes to allow shoppers to find the perfect fit. With the tagline 'the best bra is the one you never think about' Third Love bras are super soft with moulded cups, designed to be worn any time.