Asian beauty products have seen a popularity boom in recent years, despite how difficult it can be to get hold of some of the brands. The influence of Asian skincare can be seen across a number of new L'Oreal products, as well as in the emergence of ingredients like bamboo grass and lychee extract in Bobbi Brown's cushion foundations and blushes. Even niche ingredients like snail mucus extract are featuring in collagen gel products.
So what's behind the greatness of Asian beauty products? Firstly, skincare is a major part of many of the continent's cultures, with South Korea and Japan combined having a billion-dollar skincare industry. The governments of these countries have declared support for skincare research as it is an important export to western societies. The innovation and technology behind the products is unparalleled, with ingredients designed to penetrate the skin and deliver benefits deep below the surface. Brands like Lineage and Dr Jart are big sellers in the UK market, and these are the products you need in your cabinet to be part of this skincare revolution.
Cleansers
Taking the time, as much as 30 minutes, to remove the make-up and grime from your face is a crucial part of the Asian beauty routine. Removing dirt from the skin and massaging your face to increase circulation will result in brighter skin. Most products are oil based, so you will not be pulling or tugging at your skin. The oil breaks down make-up and dirt from the skin.
Even if you have oily skin, do not shun oil-based cleansers. As long as you remove the product properly you will see great skin benefits. Use gentler, circular motions with your fingers and give yourself a good massage before removing the cleanser with a soft, warm, wet flannel. Do not rule out foaming cleansers, as they can be used for the second cleanser, but remember to always be gentle.

The products to buy (Left -Right):
The Face Shop Rice Water Bright Cleansing Light Oil; £8.59, Amazon
Skin Food - Egg White Pore Cleansing Oil; £13.50, KoKo
DHC Deep Cleansing Oil; £21.50, Selfridges
Skin Food - Wildberry Milk Cleansing Foam; £12, Amazon
Exfoliators
Exfoliating with a natural scrub helps get rid of dead cells and resurface the skin. However, remember to be gentle. South Korean and Japanese women believe that less is more when it comes to exfoliation, so twice a month is all you need. Concentrate on trouble areas like the T-zone or where you normally get blackheads. There are some products that exfoliate without any physical beads, using ingredients like gingko biloba leaf extract. These products are ideal for those with super-sensitive skin.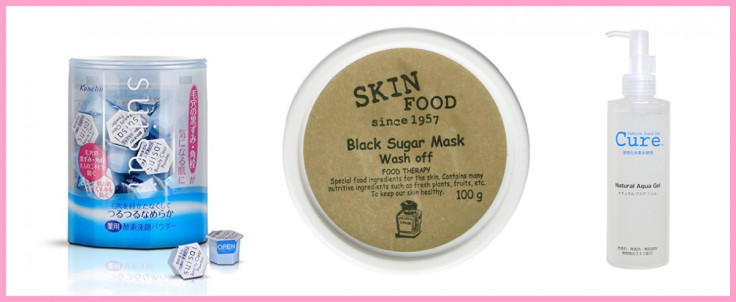 The exfoliators to buy (Left -Right):
Kanebo Suisa Beauty Clear Powder; £15.39, Amazon
Skin Food Black Sugar Mask Wash Off; £9.48, Amazon
Cure Natural Aqua Gel; £25.62, Amazon
Masks
Sheet masks are designed to be used at least twice a week, but if you have dry skin you can use them more frequently to add an extra boost of moisture to the skin. These sheets of soaked paper are drenched in ingredients like collagen and hyaluronic acid to plumpen the skin, as well as antioxidants that help prevent future damage, and charcoal and spot-fighting acids to prevent breakouts. There really is a crazy amount of variety when it comes to these masks, and some have animals printed on them to make them fun and less scary for those looking at you.
Sheet masks are incredible as they literally force your skin to absorb the benefits within the sheet and they moisturise before the product has had a chance to evaporate from the skin. This means you get an immediate result of brighter, plumper skin, which makes these perfect for before special events – but they should also be part of your regular skincare routine.

The masks to buy (L-R):
LuLuLun Balance Moisture Masks; £58, Amazon
SNP Animal Mask; £17.16, Amazon
SK-II Facial Treatment Masks; £60, Harrods

Essence
Applying essence is one of the most important steps in the Asian beauty regimen. These products go deep into the skin and are full of active ingredients that alter the skin at a cellular level, as well as being hydrating and packed with anti-ageing ingredients. These products work at speeding up your cell turnover, which leads to brighter, smoother skin. Put a few drops in your hands and gently press the product over your face and necking, ensuring you cover the surface evenly and that it has all soaked in.
The essence to buy (L- R):
Etude House - Pearl Aura Brightening Essence; £14, KoKo
Missha Time Revolution The First Treatment Essence; £20.49, Amazon
Sk-II Facial Treatment Essence; £105, Harrods
Sun Protectors and Moisturisers
With daytime moisturisers, keep a gentle hand and stroke the skin, remembering that you want to invigorate the skin and not tug at it. You want to seal all the goodness in from all the layers you have put on in the previous steps. When it comes to sun protection, there can be no messing about. Without it, skincare is pointless as the sun is the most ageing factor when it comes to your skin.
Apply sun protection after moisturiser as the final step in your daytime routine. Formulae tend to be dry touch, as to not interfere with your make-up. When it comes to night treatments, the big trend in Asian moisturisers is fermented ingredients, such as fermented snow lotus extracts, bamboo sap and fruit water, which can all be patted gently into the skin.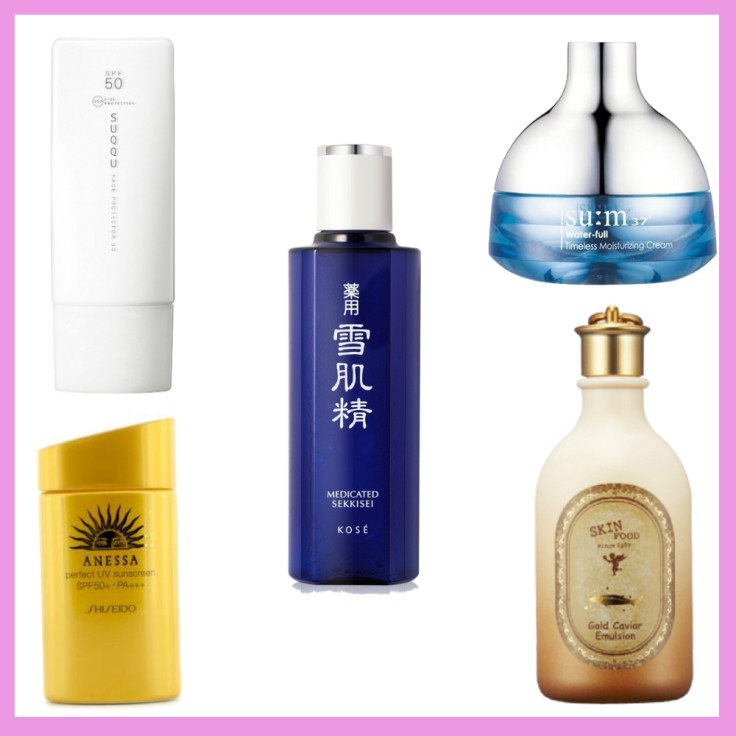 The moisturisers to buy (L-R):
Suqqu face protector with SPF 50; £40, Selfridges
Kosé Sekkisei Emulsion; £31.75, Amazon
SUM37, Water Full Timeless Moisturizing Cream (night cream); £42, Amazon
Shiseido Anessa Perfect Sunscreen SPF 50+; £23.28, Amazon
Skin Food – Gold Caviar Emulsion; £22, KoKo