At least 13 people were killed and 100 more injured after a horrific terror attack in Barcelona's Las Ramblas on Thursday (17 August).
Witnesses described how a white Fiat van jumped onto the pavement and sped down Las Ramblas, striking tourists and residents of the historic Spanish district at around 4.50pm local time on Thursday (17 August). Catalan officials warned that the death toll could rise.
Interior Department Chief Joaquim Forn said at least 15 of the 100 people injured in the attack were very badly hurt.
The van swerved among pedestrians in a crowded area in what was "clearly a terror attack intended to kill as many people as possible," said senior police official Josep Lluis Trapero.
Trapero said two suspects in custody were directly linked to the attack. However, he said their connection "doesn't mean that either were the author of the attack". One of the suspects was identified by local media as Driss Oukabir, a 28-year-old originally from Morocco who was born in the town of Aghbala, from where he moved to the French city of Marseille.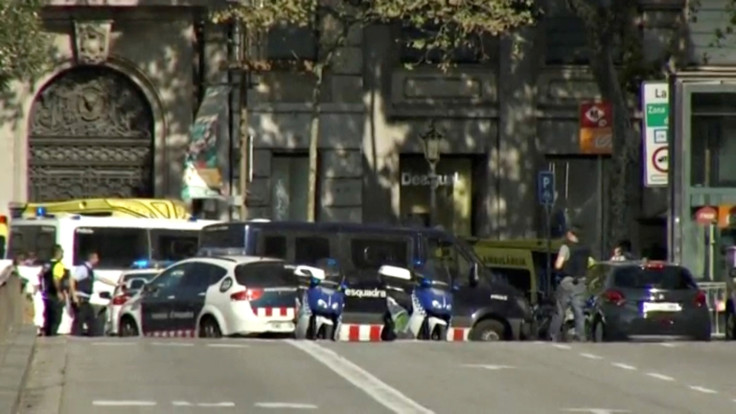 The Islamic State (Isis) claimed responsibility for the attack, The Associated Press (AP) reported. The terrorist group's media arm, the Amaq news agency, said the attack had been carried out by "soldiers of the Islamic State" and was allegedly in response to Isis calls to its followers to target countries in the coalition fighting to drive the extremist group from Iraq and Syria.
Los Mossos d'Esquadra, the police force for the Catalonia region, said the van attack is linked to an explosion a day prior in which one person was killed, reported Spain's El Pais.
The attack in Spain's northeastern region was the country's deadliest since the 2004 train attacks in Madrid. Al-Qaeda-inspired bombers killed a total of 192 people in coordinated attacks on the capital's commuter trains.
Three days of mourning have been declared by the interior chief of Spain's Catalonia region to honour the victims of the attacks.