Sarah Khodayari, a 29-year-old football fan died on Monday after setting herself on fire the week before. Dubbed as "Blue Girl," Khodayari had been arrested while trying to enter a football stadium dressed as a man. Fédération Internationale de Football Association/International Federation of Association Football (FIFA) officials will be meeting Iranian football authorities in the coming weeks. Allowing women into stadiums might be one of the talking points during the meeting.
For the upcoming 2022 FIFA World Cup qualification match, FIFA officials will be meeting the Iranian football association officials. According to Reuters, the death of Khodayari might have ensured that the FIFA officials will bring up the issue of Iranian women being banned from watching matches in stadiums. Even though a spokesperson has confirmed that FIFA's visit is not about Khodayari's death, the officials will discuss the access of women for the October 10 match.
Khodayari, a fan of the Iranian football club Esteghlal, had attempted to enter the Azadi stadium dressed a man. Upon being identified as a woman, she was charged with trying to enter a stadium during a men's football match and for not covering her head in public. Her family paid for her bail but she still spent the weekend in jail.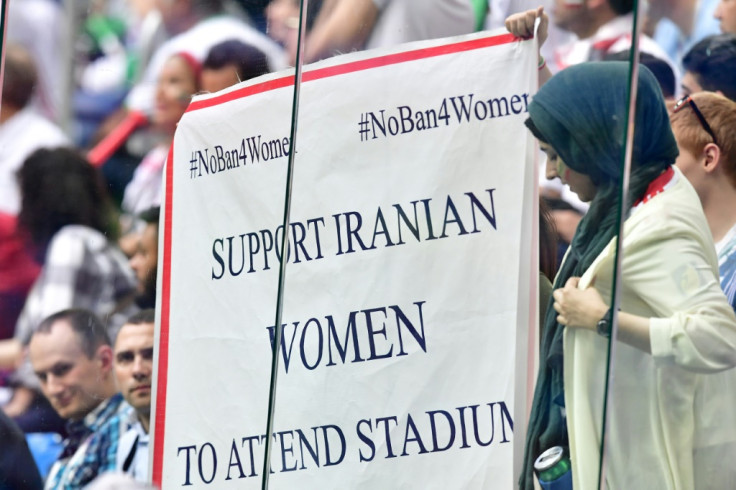 The Iranian court could have sentenced her for up to two years in jail. Khodayari chose to set herself ablaze in front of the courthouse. After suffering burns to 90% of her body, she remained in the hospital for a week before succumbing to her burns on Monday.
The national and international football fraternity have questioned women's rights in Iran. In 2006, the rule barring women from spectating men's football matches had been lifted. However, Supreme Leader Ali Khamenei reinstated the law making it illegal for Iranian women to enter stadiums again. The same law does not apply to foreign women since they are allowed to watch some men's football matches in Iran.
Dressing as men to watch matches has been the only resort of some female football fans. The Iranian movie, "Offside,' released in 2006, was about a group of women who dressed as men to watch football matches. Khodayari is only one of the women who are forced to disguise themselves to enjoy the sport.
FIFA president Gianni Infantino had already discussed the entry of women into stadiums. However, neither FIFA not the Iranian FA followed up on the promise of equal access. Mahmoud Vaezi, the Iranian president's Chief-of-Staff, told local media that the ban was there to ensure that women did not face foul language and violence in the stands during matches. He said that if the male spectators curbed their language, then women would be allowed access to the stadiums.
The Iranian football community showed their support towards allowing access for female fans. After their win over Hong Kong, the Iranian national team captain's Instagram post was far from celebratory. Masoud Shojaei shared the message that the win over Hong Kong was bittersweet as the loss of Khodayari meant a loss of the whole nation. Women footballers and managers have resorted to pressuring FIFA to ensure equal access for women.