When is International Men's Day? Ask Twitter and Richard Herring will tell you
Comedian Richard Herring celebrates International Women's Day by telling men when their day will come.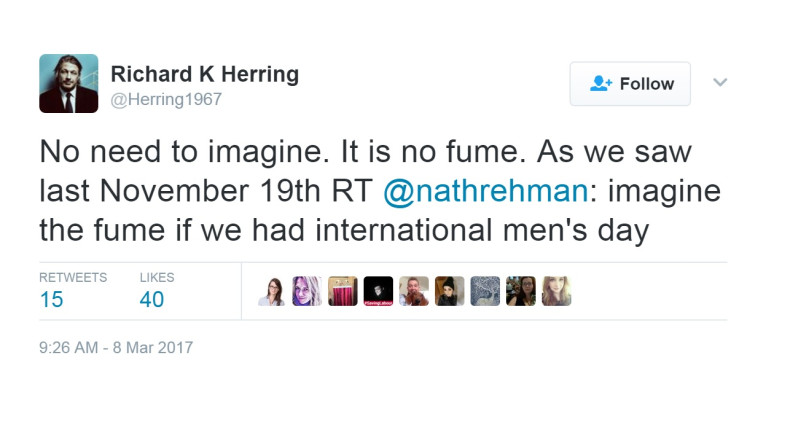 Every year, on International Women's Day, a slew of chippy men on Twitter bark the same question: when is International Men's Day?
Checkmate, equality-wanting vag-havers, because this is the biggest inequality going. Women get an international day for crying out loud, and all us men have is the enduring dominance over almost everything else.
But fear not, lads, because it turns out the gods look upon our penises favourably. There's an International Men's Day after all!
And every year, the comedian Richard Herring spends his day letting the good knobs of bloketwitter know the date - November 19.
International Men's Day is used to raise awareness about issues that disproportionately affect men, such as suicide and low educational achievement.
Herring, 49, is a stand-up comic. He hosts the regular Leicester Square Theatre Podcast where he interviews guests from the British comedy scene in front of an audience. Among his guests have been Bob Mortimer, David Baddiel, Dawn French, and Charlie Brooker.
He's also well-known for his work with fellow comedian Stewart Lee, with who he had a sketch show on television, called Lee and Herring, in the 1990s.