A bill ratifying the Istanbul Convention on preventing violence against women and girls and domestic violence received a second reading at the House of Commons on 16 December, with an almost unanimous vote to move the bill forward to the committee stage of legislation.
Only two MPs voted against, both from the Conservative party, David Nuttall and Philip Davies. Davies was nominated by his party to sit on the Women and Equalities Committee on 13 December. He's an outspoken critic of what he called "feminist zealots" who "want women to have their cake and eat it" and has been campaigning for increased visibility of "men's issues" such as increasing suicide rates and homelessness.
In a speech lasting 78 minutes ("Nobody else can be trusted to say", he said, after he was ask to be mindful of those waiting to give their speeches) Davies wished to be made known he opposed the Istanbul Convention for being "discriminatory and sexist" for focusing particularly on violence and abuse suffered by women within the context of gender-based violence.
Supporters of the Convention actually praise the legislation for this point, as it is the first international legally-binding treaty that, while clearly condemning violence against all genders, recognises and addresses the structural and systemic problem of gender-based violence that disproportionately targets women and girls.
These points were frequently raised by MPs interjecting Davies' speech, such as fellow Tory MP John Glen, who pointed out that the discrepancy in number of victims of violence from family members, which is disproportionately female, would "surely need to be acknowledged".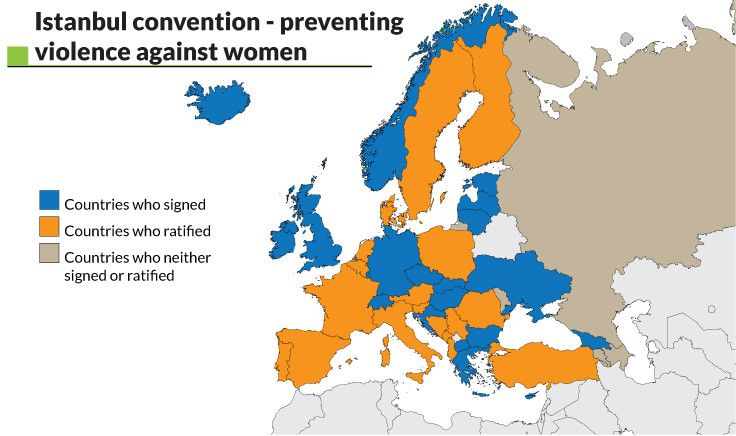 Davies repeatedly advocated for a more neutral legislation that would treat all victims of violent crime equally, asserting there was no need of focusing on women to fight gender inequality. "I don't understand how violence against women is an obstacle to gender equality", he said.
Labour MP Thangam Debbonaire, who has worked for 26 years with victims and perpetrators of gender-based violence, took it upon herself to explain, in an assertive and decisive speech that followed Davies' intervention.
"The majority of victims of sexual assault, rape, domestic abuse, coercive control and domestic homicide are female and these are specifically connected to their gender," she said.
She continued: "Violence against women is both a cause and a consequence of gender inequality and that's why we have a gender-specific convention. If we want to tackle gender inequality, and I do, we have to tackle the specific circumstances, belief systems structures and behaviour behind violence against women, hence the need for the Convention.
"He asks for neutral legislation – I say to him, when you remain neutral in a situation of profound inequality you are only siding with the powerful against the powerless," Debbonaire added.
SNP MP Michelle Thomson also spoke in the debate, asking MPs to support women who carry what she called "a black burden that shadows survivors' back."
Last week, Thomson told the House about her own experience of sexual violence. Fellow SNP MP Roger Mullin noted that her heartfelt speech inspired others to talk about their experiences, including his own wife whom, he said, shared with him for the first time her own experience of sexual abuse as a young child.
The Istanbul Convention is seen as a crucial legal instrument to ensure victims of gender-based violence across different countries will have access to the same rights, protections and resources when dealing with various forms of physical and psychological abuse. While all 28 EU member states have individually signed the convention (the UK signed it in 2012) only 18 of them have ratified it.