What is the Istanbul Convention and why it is a crucial tool to end gender-based violence?
The UK signed the convention in 2012 but it has yet to ratify it.
As members of the UK parliament undergo a second reading of the bill to ratify the Istanbul Convention on preventing and combating violence against women and domestic violence, IBTimes UK takes a closer look at the treaty and its role in ending gender-based violence.
The Istanbul Convention is seen as a crucial legal instrument to ensure victims of gender-based violence across different countries will have access to the same rights, protections and resources when dealing with various forms of physical and psychological abuse.
The convention was first proposed in 2008 by the Council of Europe, an organisation comprising 47 member states located within the European continent, which focuses on human rights protection. It was adopted by the Council of Europe Committee of Ministers on 7 April 2011, and Turkey became its first signatory on 11 May 2011 in the occasion of the 121st Session of the Committee of Ministers in Istanbul.
Who has ratified the Convention?
The Convention needed 10 ratifications to enter into force, as it did on 1 August 2014.
This map shows how many countries have ratified the convention as of 25 November 2016 and which have signed but have yet to ratify it. While all 28 EU member states have individually signed the convention (the UK signed it in 2012) only 18 of them have ratified it.
The European Commission also intends to sign the convention in the name of the EU as a single legal entity, but little progress has been made since the pledge was made in March. Armenia, Azerbaijan, Moldova and Russia have neither signed nor ratified the convention.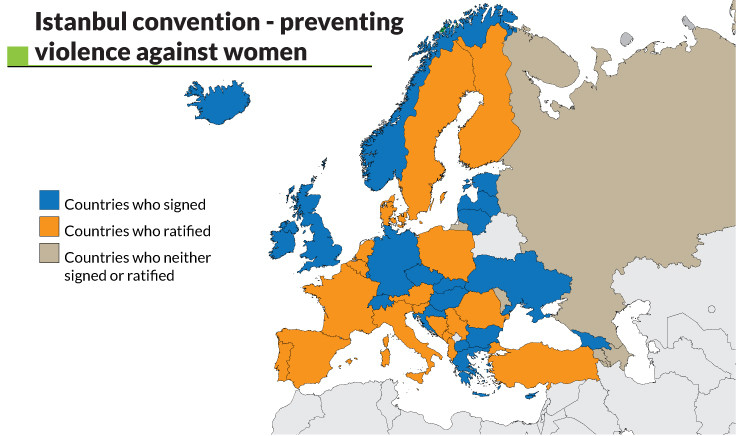 On 25 November, the UN International Day for the Elimination of Violence Against Women, European lawmakers have called on the EU and member countries to speed up the process of ratification and accession to the convention, a binding international agreement aimed at preventing violence against women.
A motion approved at the European Parliament and tabled by cross-party MEPs, demanded more action from the European Institutions. "Violence against women is an extreme form of discrimination and a violation of their human rights. It is important that the EU ratifies the Istanbul Convention, which includes concrete measures to better prevent violence, protect victims and prosecute the people responsible," said French MEP Christine Revault d'Allonnes Bonnefoy, one of the co-authors of the resolution.
What does the Istanbul Convention do?
Once the convention is ratified by national parliaments, participant nations commit to introducing or strengthening a number of legal, financial and support services to help tackle violence and abuse, including 24/7 helplines, giving the police the power to remove perpetrators of domestic violence from their homes, even if they own them, and setting up and funding adequate numbers of shelters and refuges.
The convention also ensures various forms of gender-based violence are treated as a serious crime, including psychological and physical abuse, sexual harassment and rape, so-called 'honour' killings, stalking, female genital mutilation (FGM), forced marriage, forced abortion and forced sterilisation.
Signatory countries also commit to promoting and managing awareness-raising campaigns with civil society, and in specifically with women's organisations and ensuring that equality between women and men, non-violent conflict resolution in relationships, and the human right to personal integrity are included in school curricula at all levels.
Advocates of the convention say one of its merits is that, while clearly condemning violence against all genders, it recognises and addresses the structural and systemic problem of gender-based violence that disproportionately targets women. Critics say that this discriminates against men, promoting a negative narrative. But as Luke Field, a reader of The Irish Times, wrote in response to these claims, in a society that takes violence seriously and is committed to action against it, "fully ratifying the Istanbul Convention will increase men's safety from violence, not reduce it".
© Copyright IBTimes 2023. All rights reserved.