White House says it 'wants the UK to remain a strong leader in Europe'
President Trump has previously said that Brexit will be 'a wonderful thing'.
White House Press Secretary Sean Spicer told reporters on Wednesday (29 March) that the US wants the UK to "remain a strong leader in Europe" as the formal proceedings for Britain leaving the European Union begin.
Spicer was asked about comments from Jean-Claude Juncker, European Commission President, who was quoted in the Financial Times as saying that US President Donald Trump "does not understand anything about Europe."
Spicer replied that he believes the president is "very well steeped in world affairs, especially Europe, Nato."
"Whatever the future UK-EU relationship looks like, we want the UK to remain a strong leader in Europe", he said, adding that the White House also wants the EU to stay a strong leader globally. Spicer also called Trump a "leader in the effort to call Brexit".
During a visit to Washington by Prime Minister Theresa May in January, Trump called Brexit "a wonderful thing" and both sides have suggested a trade deal between the long-standing allies could be on the cards. May was not the first UK politicians to meet Trump after his election victory, though, with former Ukip leader Nigel Farage famously being pictured in front of the soon-to-be president's golden door at Trump Tower just days after his surprising win over Hillary Clinton.
During a speech at the Conversative Political Action Conference, just outside the US capital at the end of February, Farage told an audience of American conversatives that Trump's victory and Brexit had both come from similar anti-globalist sentiment. He claimed that 2016 was "the year the nation state made a comeback against the globalists".
Trump's predecessor, former president Barack Obama, caused a stir during the lead-up to the referendum on the UK's membership of the EU when he said during a press conference that were the UK to leave, it would go to "the back of the queue" for a trade deal with the US.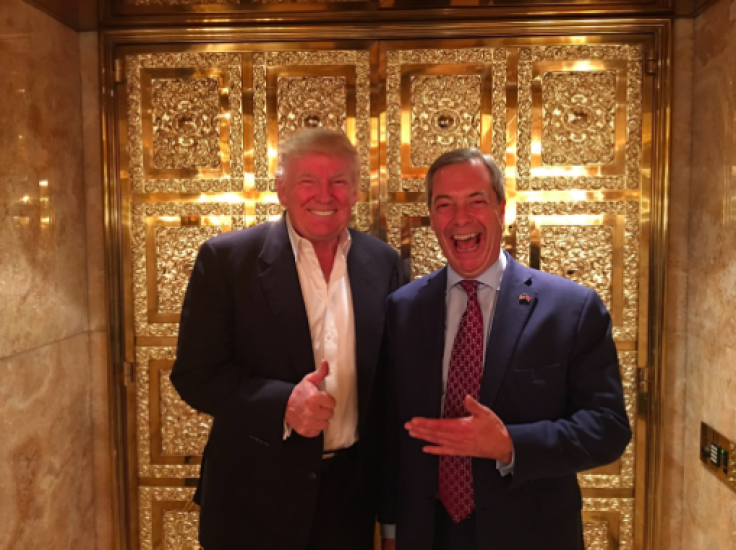 © Copyright IBTimes 2023. All rights reserved.