On the face of it, there was plenty in her meeting with Donald Trump for Theresa May to feel good about as she boarded her plane out of the US on Friday (27 January) evening.
The president - who had earlier taken May's hand as they walked outside the White House - talked smooth, acted courteously and even exuded some charm alongside the Prime Minister in their joint press conference.
Trump was glowing about the special relationship, which he said had "never been stronger", adding that "a free and independent Britain is a blessing to the world".
It was arguably his most statesmanlike and restrained performance of his political career - at least of his week-long presidency. There was no brash talk - and he bristled at being described as such by a British journalist.
There was the slightest flash of irritation at being asked by BBC political editor Laura Kuenssberg about how British people were uneasy over his views on torture, abortion and Muslims.
But the president rowed back on his position on torture, saying that although he still felt it worked, his views would be overridden by his new Defence Secretary Gen James Mattis, who is opposed and will, it is now clear, have the final say. If this tamer, more consensual Trump is the result of May's influence, then it bodes well for the future of the special relationship.
For the Prime Minister's part, she appeared in command of the press conference: pinning down Trump on international security by saying he was "100% behind Nato" - even though these words did not come from the president's mouth, announcing his state visit to the UK later this year and suggesting that they had made some progress on a US/UK trade agreement.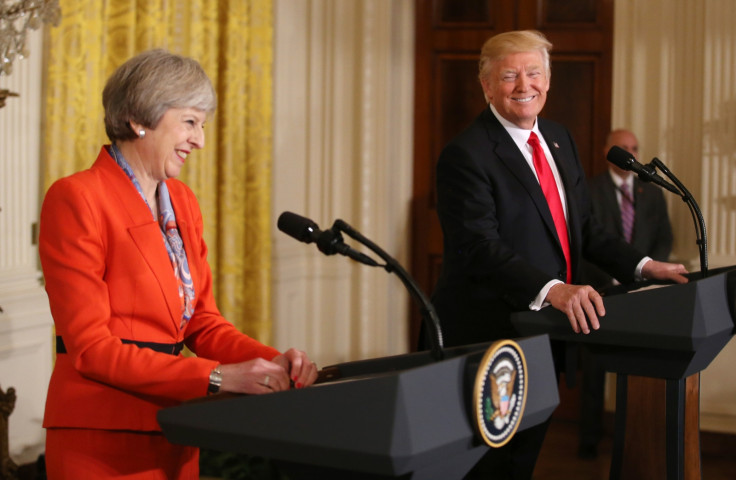 If this tamer, more consensual Trump is the result of May's influence, then it bodes well for the future of the special relationship.
Yet as May relaxes with a gin and tonic in her first class cabin this evening, can she be so confident that the trip was a total success?
Her number one priority out of the visit was to open up meaningful talks on a US/UK trade agreement that would provide some certainty for post-Brexit Britain. The Prime Minister said she and the president took steps to "lay the groundwork for a trade agreement" between the US and UK. She added that she was "convinced a trade deal between the US and UK is in the national interest of both countries".
This last quote sounded like it was uttered more in hope than expectation, as though she were trying to bind him into something on which he was still equivocating.
Trump, in public at least, did not exactly reciprocate on this issue. His words on the special relationship and Brexit - which he said would be "wonderful for your country" - may have been warm, but he did not spell out any hopes for a trade deal with Britain.
And asked about his relationship with Vladimir Putin, he said: "If we can have a great relationship with Russia and China, and with all countries, I'm all for that."
In reshaping the world order, Trump wants to keep his options open.
Let's not forget his mantra of "America First" - and a few hours of cordiality with May is not going to change that.