Former Ukip leader Nigel Farage took the stage at the Conservative Political Action Conference on Friday in Maryland, telling the crowd of American conservatives that he feels "a little bit more American" every time he comes to the country.
"Every time I come to America, I'm feeling a little bit more American, I have to tell you," Farage said during a speech that continued the equation of the Brexit result with Donald Trump's presidential victory. He described 2016 as "the year the nation state made a comeback against the globalists", following the conference's overt nationalist theme.
Farage said that he was "grateful" for then president Barack Obama's intervention in the EU referendum debate, saying that people were "disgusted" by his comments. Obama said, notably, during a state visit that in the event of Brexit, the UK would be at "the back of the queue" for a trade deal with the US.
Along with his remarks on Obama, Farage was full of praise for Trump, saying he was "trying to put in place the platform on which he was elected". He also complemented chief ctrategist Steve Bannon and senior aide Kellyanne Conway before taking aim at the network CNN, saying his favourite part of Trump's win was "watching the faces of the CNN presenters."
Farage spoke of America as a "friend" to Britain, adding: "our real friends in the world speak English, have common law and stand by us in times of crisis". American conservatives in the crowd agreed with him, one telling IBTimes UK that there was a 'special relationship' because "there's lots of ideological similarities, language similarities and history similarities."
Anna Scott Marsh, a student who watched Farage speak, said that she was "a fan of him when Brexit started". She even added that she'd like to see more of Farage in America: "I wish he would move over here and run for something over here... I think everybody here would welcome him with open arms so we'd love that," she said, "but I know they also need him over there".
"I think there are big things for us in store with him in the coming years, especially with Trump," she added.
Back in the UK, Ukip came second in a by-election on Thursday, one which many thought would dictate whether the party was still relevant after the EU referendum. Liberal Democrat leader Tim Farron called the result "the beginning of the end for Ukip."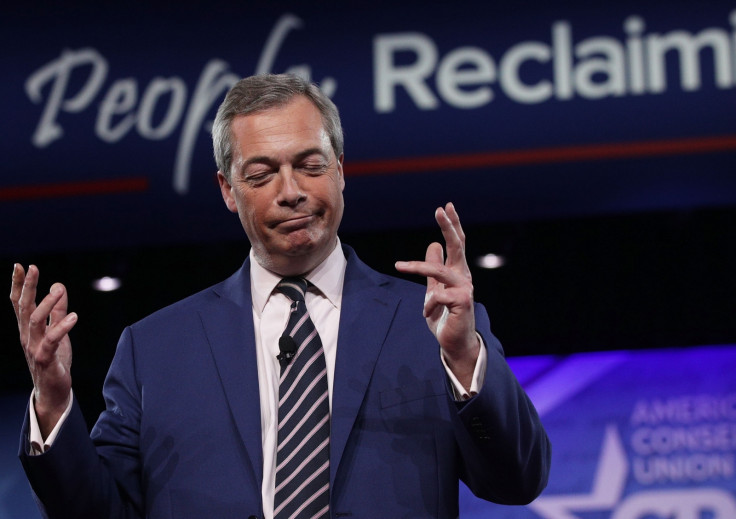 The CPAC conference has become a major event for American conservatives with a number of senior members of the Trump administration taking part this year. On Thursday, Steve Bannon, Reince Priebus, Betsy DeVos and Vice President Mike Pence spoke.
About an hour before Farage took the stage, President Trump finished his own speech where he praised the conference as the place his political career started, calling the audience his "friends" before blasting the "fake news" media and saying that his victory was "a win for conservative values".