President Donald Trump's senior White House staffers were reportedly using private accounts on a Republican National Committee (RNC) email system. Key administration staffers who used the system include Jared Kushner, Kellyanne Conway, Sean Spicer and Steve Bannon.
A report by Newsweek found that Kushner, Conway, Spicer and Bannon had active email accounts on the RNC email system (rnchq.org). The system was the same one the George W Bush administration was accused of using to allegedly sidestep transparency rules.
The email addresses were verified through the Simple Mail Transfer Protocol (SMTP). The RNC has since deleted the emails of Bannon, Kushner and Conway, Newsweek noted. According to the report, the rnchq.org account is hosted by smartechcorp.net, the same Chattanooga, Tennessee commercial server that hosted it during the Bush administration.
Bush's staffers—including Karl Rove, Dick Cheney and Scooter Libby—used the RNC email accounts to conduct business while they worked at the White House, Gizmodo reported. During a probe into Rove and Libby's behaviour, approximately 22 million emails were "lost". They were later recovered by the Obama administration.
Using a separate email address is not illegal and could allow staff to keep their White House work separate from other political conversations.
However, Trump staffers using an RNC email must still adhere to the Disclosure Requirement For Official Business Conducted Using Electronic Messaging Accounts law, Gizmodo reported. The 2014 law requires anyone using the RNC email for White House work to forward or copy those messages to the government email system within 20 days.
The RNC email system, like that of the Democratic National Committee (DNC), was hacked during the 2016 election. "They better be careful after making such a huge ruckus over the private email over at the State Department," former Bush administration lawyer Richard Painter told Newsweek.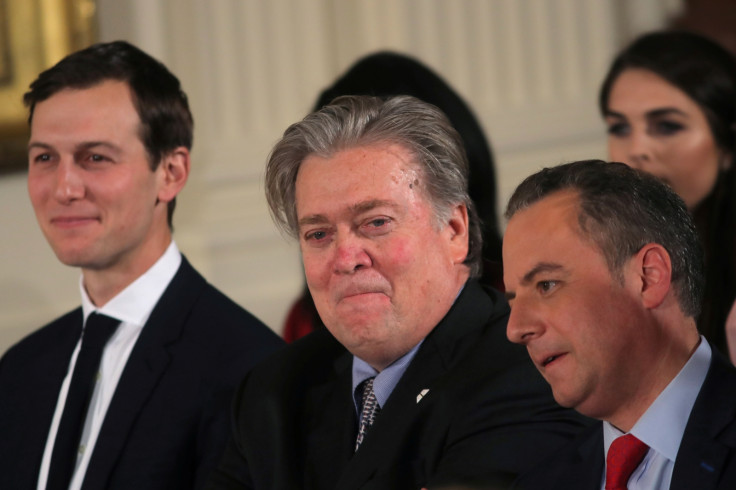 Officials at the Obama White House also held unofficial DNC email addresses, a former Obama staffer confirmed. However, the staffer said the White House counsel told employees from "day one" that all work-related emails were to be handled on official accounts. If they received a work-related email on their personal accounts, they were to forward it to their official White House emails.
"This was drummed into us constantly," the former Obama official told Newsweek.
During his campaign, Trump and his Republican followers repeatedly called for Hillary Clinton to be "locked up" for using a private email server for her government work while secretary of state. Trump has backed away from his promise to appoint a "special prosecutor" to look into Clinton's case since he was elected.