A Nigerian Evangelical preacher is stirring criticism for his repeated calls on violence against Muslim herdsmen in Nigeria. Apostle Johnson Suleman, founder of Omega Fire Ministries, has been accused of fuelling tensions in a country where inter-religious violence is already widespread.
Apostle Johnson Suleman fact file
Real name: Johnson

Suleman

Employment: Founder of Omega Fire Ministries
Date of birth:Unspecified
Place of birth: Benin city, capital of

Edo

state
Famous for prophecies and visions

He claims he has a 'divine mandate' to restore people's destinies

Family: Married to Lizzy Johnson

Suleman
Who is Apostle Johnson Suleman?
There is not much information on Apostle Johnson Suleman's private life . According to his official website, he was born in Benin city, although his date of birth is not clear.
It has been claimed that, a few days after his birth, his Muslim parents received the visit of some prophets from the city of Warri, who told them their son would be a minister of God.
Suleman was raised as a Muslim until he "encounterted Christ" and reportedly had a revelation on his destiny and his mission in 1994.
Suleman, who had an "insatiable thirst for God", claimed the revelation made him understand he had to spread the gospel around the world through a ministry.
According to some reports, he studied as a mass communicator and received a doctorate in philosophy.
He started working as an assistant pastor at the Armor of God Church, in Lagos, in 1994. Ten years later, he founded the Omega Fire Ministries, which has branches present in the UK.
Why is Suleman controversial?
Suleman is known in Nigeria for his numerous prophecies and heated sermons. The preacher stirred criticism in 2016 after claiming that the governor of Kaduna state, Nasir El-Rufai, would die due to his attempt to pass a law that would restrict public preaching.
In the latest of his controversial sermons, Suleman told his congregates to take up arms against Fulani herdsmen, some of whom have been blamed for attacks on Christian communities.
Militants from the Fulani ethnic group mainly operate in Nigeria's Middle Belt and attack primarily private citizens to gain control of grazing lands. In Kaduna, Nigeria's third most populous state, Fulani militants have often been blamed for attacks on Christians.
In a video speech – believed to have been recorded between October 2016 and January 2017 and released at the end of January – Suleman said he had received information on an alleged attack being planned by Fulani herdsmen.
"I have told them in the church here that any Fulani herdsman that just enters by mistake and want to pretend, kill him. Kill him. Cut his head. If they are busy killing Christians and nothing is happening, we will kill them and nothing will happen," Suleman said, in reference to the attacks occurred in Kaduna.
Following his remarks, Suleman was summoned by Nigeria's Department of State Services (DSS) in January.
Officials cautioned him against making inflammatory comments, with a source telling This Day Live website: "The pastor, however, insisted that he is not a politician nor does he encourage or like violence. He said he was naturally angry at the federal government's silence at the killings of Nigerians, mostly Christians, by the Fulani herdsmen, and that he only called for self-defence against them."
Suleman maintains his comments refer to Fulani militants and are not directed at the Fulani ethnic group or Muslims in general.
In previous sermons and speeches, Suleman alleged Rufai had confessed to paying Fulani herdsmen to kill Christians, something Rugai strongly denies. However, the governor has been accused of not doing enough to curb religious violence in Kaduna, inhabited by both Muslims and Christians.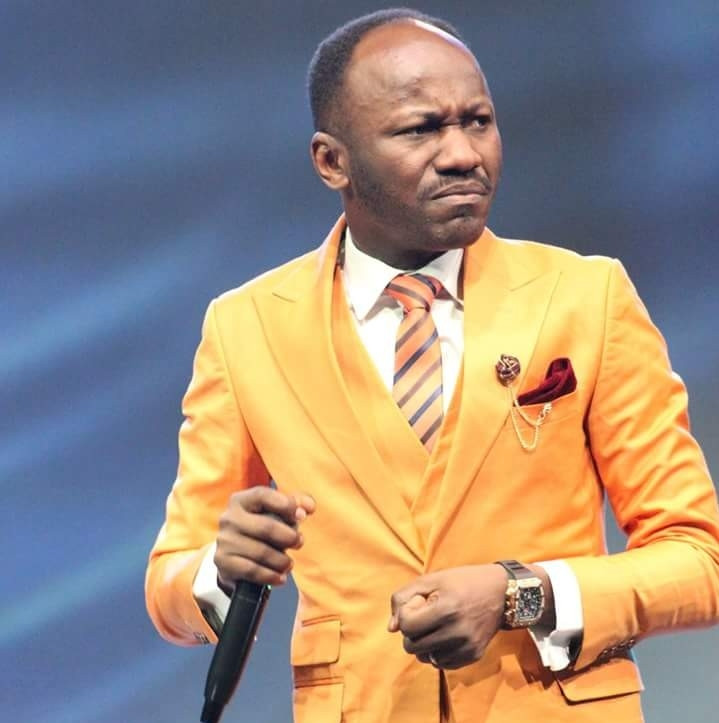 What are Suleman's main prophecies?
Among other things, Johnson claimed he had revelations on the health conditions of President Muhammadu Buhari – currently on medical leave in the UK – and the possible release of the schoolgirls known as the Chibok girls, kidnapped by Boko Haram terrorists in April 2014.
At the beginning of the year, Suleman released 50 prophecies for 2017. They include:
President

Buhari

will face the numerous impeachment threats and God will humble

Buhari

in 2017
President

Buhari

's health will need more attention

Twice, vice president

Yemi

Osinbajo

, will face removal from office
[US President] Donald Trump will face his impeachment attempts as the members of Congress will become divided because of his style of ruling
I see crude oil flowing in Northern Nigeria, it is real
I see a huge number of

Chibok

Girls with kids
---
Nigeria up close: Check out our Flipboard magazine
---