Attacks blamed on suspected militants from the Fulani ethnic group in Enugu State is only the latest incident in a growing catalogue of violence in Nigeria. Africa's biggest economy continues to be marred by religious and ethnic conflicts, terror attacks, widespread kidnappings for ransom, oil thefts and strident calls for independence.
From Boko Haram terrorists in the northeast to Pro-Biafran secessionists in the southeast, Nigeria's unity is threatened by ethnic groups and terrorist organisations fighting to destabilise the country, end perceived marginalisation or instigate a split from the federation.
---
North
---
Boko Haram
Boko Haram, which has renamed itself Iswap, denounces Western influence in Nigeria and aims to impose its version of Sharia law throughout occupied territories. The group carries out attacks in Nigeria and neighbouring countries in the quest to establish a caliphate. Three Nigerian states − Adamawa, Borno and Yobe − have been under a state of emergency since May 2013.
Boko Haram has killed 20,000 people since 2009 and was deemed the world's deadliest terror group, surpassing its ally, Islamic State (Isis/Daesh), in November 2015. Nigeria has become the third most terrorised country as a result of the group's violent insurgency.
"Disagreement within the group might explain the recent revelation that some Boko Haram members decided to travel to Libya. This also relates to the split that Boko Haram faced after it pledged allegiance to IS: Not all members were in favour of the shift and the group is now split between al-Qaeda and IS," David Otto, chief executive of TGS Intelligence Consultants, told IBTimes UK.
Nigeria is leading a regional offensive with 8,700 troops from Nigeria, Niger, Chad, Cameroon and Benin lined up against the terrorists.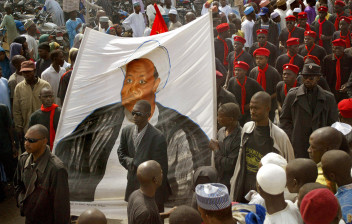 Shia minority
The Nigerian government has been accused of excessive violence against members of the Islamic Movement in Nigeria (IMN), a Shia religious and political organisation that aims to create an Islamic state through a revolution like the one that took place in Iran in 1979.
Several analysts fear violence might erupt in Kaduna following alleged massacres of Shia members and the arrest of IMN's leader Sheikh Zarzaky. Authorities deny any wrongdoing.
"The repercussions could be very regrettable if there is no satisfactory accountability after the state investigation is completed. With Zarzaky in a possible sorry state in detention with other key Shiite members, events before or after their release could turn Nigeria inside out," Otto said.
---
Middle Belt
---
Fulani militants
Fulani militants mainly operate in Nigeria's Middle Belt and attack primarily private citizens to gain control of grazing lands. At least 1,229 people were killed in suspected attacks by Fulani militants in 2014.
In 2015, a report by the Global Terrorism Index (GTI) described the militants as the fourth deadliest terrorist group and warned attacks attributed to them were on the rise in Nigeria . The report also claimed there was a link between Fulani militants and Boko Haram.
Suspected Fulani militants are believed to be behind massacres in Enugu State earlier in April. "Framing these attacks by so-called 'Hausa Fulani herdsmen' under sectarian terms or targeted killings against Christians or Biafrans will only add fuel to the situation," Otto says. "These types of violent land disputes have existed for decades - caused primarily by the mere lifestyle of Fulani Nomads and their grazing land in the Sahel region. The disputes have increasingly become worse because of the current land degradation in the Lake Chad region."
---
South
---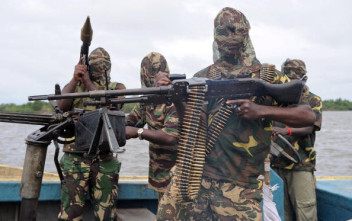 Niger Delta militants
Militant groups in the oil-rich Niger Delta region took hold in the early 2000s following the deterioration of the living conditions of people due to the increase of oil-related activities by foreign exploration corporations. Tensions flared up in the local communities as some ethnic groups felt they were being exploited and did not benefit from the presence of crude oil on their land.
The repeated oil spills that considerably damaged the environment and affected people's health further deepened the communities' frustration. After being elected in 2015, Buhari extended a 2009 amnesty granted to some 30,000 former militants in the area.
"In the South South you have the threat from the Niger Delta militias and armed bandits, who fight over oil generated revenue and seek sustainable concessions of resources. Kidnapping is their main operational strategy. Some groups are also affiliated with pro-Biafran groups," Otto explained.
Pro-Biafran groups
Pro-Biafrans demand the independence of Biafran territories forcibly annexed to Nigeria during British colonisation, which ended in 1960. A Biafran Republic was established in 1967 and re-annexed to Nigeria in 1970, following a civil war that claimed between one and three million lives, mostly Biafrans.
The breakaway calls have gained renewed momentum following the arrest of Nnamdi Kanu, one of the leaders of the movement, who is standing trial on six counts of treasonable felony charges. Emmanuel Enekwechi, head of the self-proclaimed Biafran government in exile (BGIE), told IBTimes UK the pro-Biafran movement was peaceful.
The Nigerian government has always maintained that Nigeria's unity was a priority for the country and that although peaceful pro-Biafran protests was welcomed, demanding the split was against the constitution.
Some have warned pro-Biafrans might join forces with those calling for the independence of Southern Cameroon. "The Biafran movement would like to secure a safe haven in Cameroon or perhaps use Cameroon as a point to launch attacks against the Nigerian government," Otto analyses.
---
Nigeria up close: Check out our Flipboard magazine
---