The number of executions recorded worldwide last year fell by more than a third compared to the previous year, a report by Amnesty International has said.
At least 1,032 were put to death in 23 countries in 2016, down from 1,634 in 25 countries in 2015.
Despite the significant decrease, the overall number of executions in 2016 remained higher than the average recorded for the previous decade.
Furthermore, the figures do not include China where thousands are estimated to have been executed last year.
Beijing does not release statistics on its use of the death penalty, with the figures considered a state secret.
But researchers at Amnesty say China, once again, tops the list as the most prolific executioner in the world, putting more people to death than all countries combined.
They accused government officials of "deliberately obscuring the shocking scale of executions" in the country despite repeated official claims it was making progress towards judicial transparency.
The top five executioners for 2016 also features Iran (at least 567), Saudi Arabia (at least 154), Iraq (at least 88) and Pakistan (at least 87).
The United States did not feature for the first time since 2006 due partly to litigation and challenges in sourcing chemicals used in lethal injection procedures, Amnesty said.
It carried out its lowest number of executions for 25 years in 2016, putting to death 20 people.
The fall in executions worldwide was largely driven by fewer deaths recorded in Iran and Pakistan.
In Pakistan, the 326 recorded killings in 2015 followed the lifting of a seven-year moratorium on executions in December 2014 in response to a Taliban attack on a school in Peshawar which killed 132 children.
In Iran, at least 567 people were executed last year, compared with 977 in 2015.
Top five executioners (source: Amnesty International)
1. China (thousands)
2. Iran (at least 567)
3. Saudi Arabia (at least 154)
4. Iraq (at least 88)
5. Pakistan (at least 87)
Amnesty said reasons behind the "unprecedented spike" in 2015 were unclear, but that the majority killed were convicted of drug offences.
Overall, 141 countries in the world are now "abolitionist", having either completely abolished capital punishment or effectively no longer using it.
Some 59 are "retentionist", of which only a smaller group regularly carry out executions.
Despite the year-on-year fall in executions, Amnesty warned the number given death sentences remained historically high.
Last year saw 3,117 people sentenced to death – the highest ever recorded in a single year by the organisation.
At least 18,848 people were known to be on death row worldwide at the end of 2016.
Unfair trials
In the majority of countries where people were sentenced to death or executed, capital punishment was imposed following proceedings that did not meet international fair trial standards, Amnesty said.
The group's researchers said in several countries – including Bahrain, China, Iran, Iraq, North Korea and Saudi Arabia – some death sentences were based on "confessions" that may have been extracted through torture.
Other cases saw people put to death for offences which did not meet the standard of "most serious crimes", as prescribed by Article 6 of the UN International Covenant on Civil and Political Rights.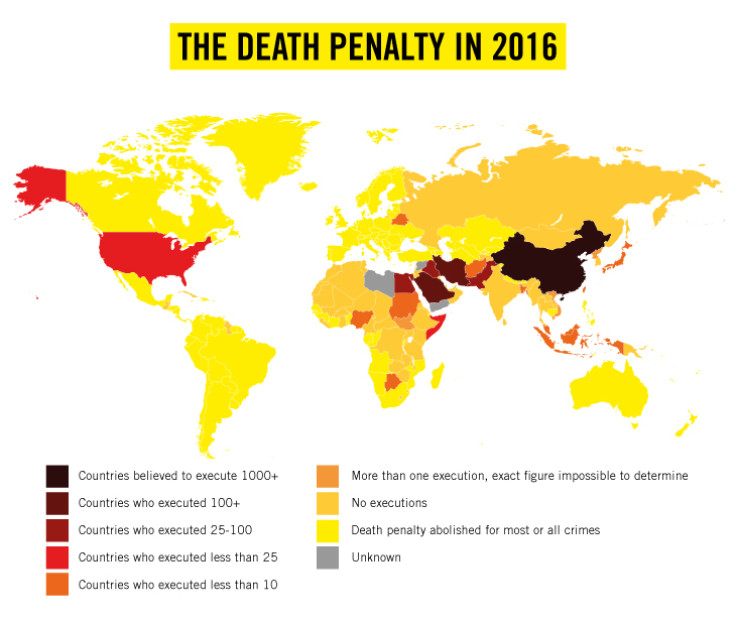 Kate Allen, Amnesty International UK director, accused the UK government of "toning down" its longstanding foreign policy of urging other countries to abolish the death penalty as it pursues trade deals and enters into new security arrangements.
She said: "We fear that trade and security issues are trumping human rights, with UK officials damping down their objections to the death penalty when it comes to countries like Saudi Arabia or Bahrain.
"When, shockingly, Bahrain executed three men after deeply unfair trials recently, the Foreign Secretary could muster only the mildest of rebukes.
"At its best the UK does some very important work in encouraging countries to end capital punishment, but with death sentences running at record levels around the world now is not the time to go quiet on the issue.
"If governments in Beijing, Manama, Islamabad and Riyadh see there's very little public outrage over executions, then they're going to think they've got a green light to carry on killing."
A spokesman for the Foreign Office said: "The UK's opposition to the death penalty is clear; we condemn and do not support it under any circumstances. The global trajectory is towards abolition and the UK supports this trend.
"We will continue to back the UN global moratorium on the use of the death penalty as a first step towards ultimate abolition."