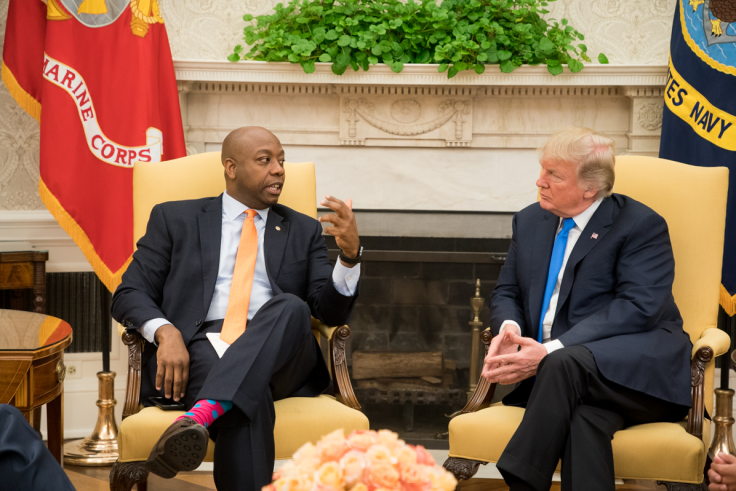 Twitter is ripping into US President Donald Trump over a fashion faux pas committed during his meeting with Republican Senator Tim Scott of South Carolina at the White House on Wednesday, 13 September. Scott, the only African-American GOP senator, discussed race relations with Trump following the president's "sterile" response to the deadly riots in Charlottesville, Virginia last month.
Trump claimed last month that "both sides" were responsible for the violent protest.
"The real picture has nothing to do with who is on the other side," Scott said, the New York Times reported. "It has to do with the affirmation of hate groups who over three centuries of this country's history have made it their mission to create upheaval in minority communities as their reason for existence."
Following the meeting, White House press secretary Sarah Huckabee Sanders said it was "very productive". White House officials also sent reporters a photograph of the Scott meeting with the president, but accidentally misspelt his first name as "Tom."
Twitter users, however, noticed the president's mismatched attire - a navy blue suit jacket, black pants and a bright blue tie - and proceeded to mock him for it.
Trump has previously drawn taunts for wearing ill-fitted suits, opting for too-long ties and taping his ties together rather than using a tie clip.
"Trump is wearing a horribly mismatched suit. Scott on the other hand, with the A+ socks," one Twitter user tweeted. Another wrote: "I think he's trying to pull suit-jacket-as-blazer and suit-pants-as-slacks. That or he got dressed in the dark. Either way, no go."
"Makes me wonder who was in charge of dressing him this morning," one person questioned.
While some people said the issue was a "petty" one to point out, one person said: "I don't think we're asking too much for him to dress like a president." Some people compared Trump's black-and-white outfit to the infamous tan suit of his predecessor Barack Obama and Scott's decision to don a pair of "amazing" bright blue polka dot socks.
Many also questioned if Trump's outfit was actually a mistake or a deliberate fashion choice.
"He looked directly at the eclipse," one person tweeted. "It was just a matter of time."