Sean Spicer may have been one of the most popular White House press secretaries of recent times. His time at the podium went on to inspire Mellissa McCarthy's popular spoofs on Saturday Night Live and he became the inspiration behind numerous internet memes.
So when it was announced that the 45-year-old would be making his first public television appearance on Jimmy Kimmel Live on 13 September, we expected that he would have to face some difficult questions.
"Why is he [President Donald Trump] so concerned with size?" the late show host asked. "Have you ever seen the president naked?"
"No, I have not," Spicer clarified with a smile.
Kimmel's question was a follow-up to one regarding Trump's inauguration which the former press secretary described as having the biggest crowd ever. "You are charged with going in front of the press and saying the inauguration crowd is the biggest crowd ever," he threw at his guest.
However, Spicer refused to explain his reasoning for giving an incorrect estimate of the inaugural audience. "Yes, I'm aware. I appreciate the reminder how it went down," he replied.
"I think in all seriousness that, whether you voted for him or not, the president won the election, he faced a lot of headwinds and I think there was a faction of people out there that didn't want to give him the credit he deserved. I think a lot of times he takes that personally."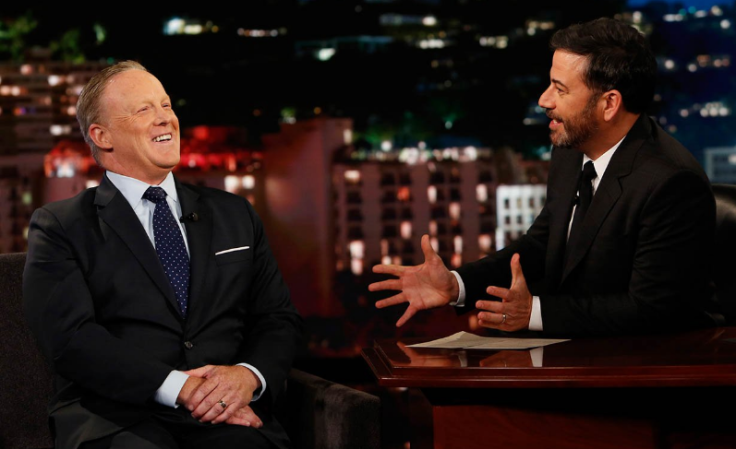 Spicer stepped down from his position following Anthony Scaramucci's entrance as White House communications director. Despite the unfavourable atmosphere in which he resigned, Spicer clarified that he would continue to defend and support Trump. He even attempted to stand by Trump's tendency to use "alternative facts".
"I think you can look at a set of facts and come out with one opinion and someone else can say, 'While the facts are the same here, I come out with a different conclusion.' And that's what makes our country great," he said.
Further into the interview, the political aide discussed Trump's work ethic ["There is no one who is working harder than him"] and explained the administration's tense relationship with the press as some journalists have often been labelled as purveyors of 'fake news'.
While he agreed that a majority of journalists were decent people looking to write the truth, Spicer pointed out that "there are a lot that would rather be first than right".
"When these guys in the press corps go after the president, from the outside it creates a very poor relationship overall and I think there are some areas that could deserve a reset," he said. "I believe a free press is paramount to a democracy and it's what makes our country great."