James TW is mature beyond his years. The British crooner is still in his prime at 18-years-old but his music boasts the wisdom and experience of an artist with two decades in the industry.
The Sanctuary singer has hit the ground running with his career so far amassing millions of streams and a profile in the US thanks to his friendship with pop heartthrob Shawn Mendes.
Who is James TW and why should he be in your playlist?
Born and raised in the small village of Barford, Warwickshire, James Taylor-Watts had humble beginnings. It is a huge contrast to how far the singer has come now. His debut EP First Impressions was released in April 2016 and some of the tracks, including the acoustic ballad When You Love Someone, have been streamed as many as 12 million times on Spotify.
Does this kind of success so early on in his career give James an ego-boost? "If anything it just makes me more excited to release new music," James told IBTimes UK. He revealed: "I set a goal when I released this EP. The first goal was for every song to reach 100,000 streams and a couple of the tracks have over 10 million streams and it definitely doesn't give me an ego-boost. The more recent songs, I'm getting better as a songwriter and I'm very excited for people to hear the new stuff."
First Impressions offers an insight into James' life experiences so far and is something many teens can listen to and relate. Detailing how the collection of six songs came together, James said: "There was a lot going on in my life – still being in school, trying to decide whether to leave school or not. I was teaching kids trying to earn money and have relationships."
He added: "I wanted to take a look at aspects of my life and put them on the EP so people got a sense of what I was going through and just what a teenager might be going through as well at that point in their life. I picked the songs based on them complimenting my situation at the time."
Watch James TW's Sanctuary music video:
James signed to Island Records UK in 2015 and it is partly down to one young man. Since finding fame on YouTube, Mendes has become one of the most promising pop acts to emerge in recent years with his debut album Handwritten topping the US Billboard 200 chart in 2015. With 7.26 million Twitter followers, Mendes has a strong fan base behind him and James is right in the thick of the mayhem.
Since March 2016, James has performed as the sole support act on Mendes' world tour which visits Europe, North America, Asia and Australia. How did the boys connect? "[Shawn had] been following my [YouTube] channel and I didn't know about it. I happened to be in New York visiting record labels. He tweeted me one morning when I was in New York and said he really liked my channel and videos and found me very inspirational."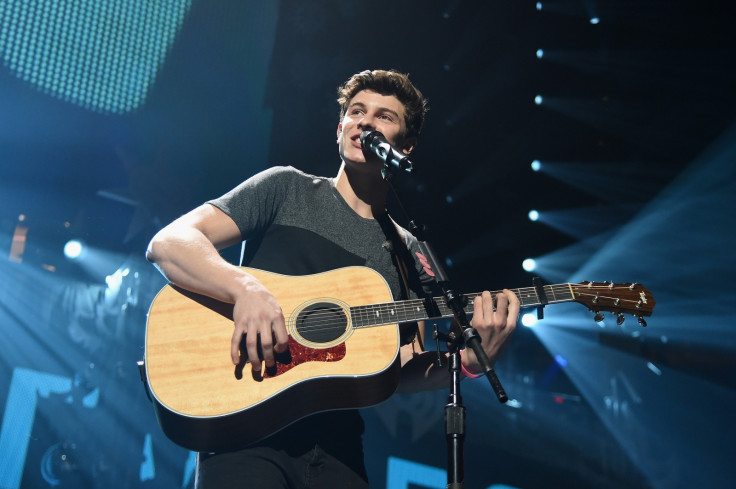 James continues: "I thought it was just a really lovely tweet to send out. I thought that was the end of it and then later that day he DM'd me and asked to meet up. I went and met with Shawn and played for him and his A&Rs at his record label. I ended up signing to the same record label so Shawn's been a real champion of mine. I'm very grateful for his support. I definitely credit him [for where I am]."
The feeling of admiration between the two is mutual as James adds: "Shawn's younger than I am and he just sold-out Madison Square Garden so there's a lot to learn from someone like that." Can fans expect a collaboration between James and Mendes soon? The British crooner teased: "Shawn and I have been doing a bit of writing on the road. I wouldn't expect a collaboration but we'll see what happens."
James TW's debut EP First Impressions is out now and fans can expect to see him perform a headline show at London's Borderline on 7 September. Tickets are on sale now.
Watch James TW's When You Love Someone music video: