One of the most recognisable names in boxing, Manny Pacquiao stands as the sport's first man to have won eight world titles across eight different weights. The Filipino fighter tried to hang up his gloves in 2016 to immerse himself in politics back in his homeland, but just eight months later he was back and continues to be a dominant force in the welterweight division.
Key facts about Manny Pacquiao
Full name: Emmanuel Dapidran Pacquiao
Date of birth: 17 December 1978
Birthplace: Kibawe, Bukidnon, Philippines
Net worth: $250m (£204m)
Height: 5ft 5.5in (166cm)
Weight: 143lbs
Reach: 67 in (170 cm)
Nickname: "Pac-man"
Record: 67 fights, 59 wins (38 via knockout), six losses, two draws
Twitter: @mannypacquiao
Facebook: Manny Pacquiao
Instagram: @mannypacquiao
Who is Manny Pacquiao
Raised in Kibawe in the Bukidnon province of Mindanao, Philippines, Pacquiao left home at an early age. According to his long-time trainer, Freddie Roach, he ran away from home at the age of 12 after his father cooked his dog for food, living on the streets for a time as he began to pursue his dream of boxing professionally. He started fighting at 14 and just two years later, turned professional.
Weighing-in at just 98 pounds, seven points under the minimum weight division, Pacquiao had to hide weights in his pockets in order to be given the nod to fight for the first time, recording his first professional win against Edmund Enting Ignacio in January 1995. Within the next five years, he would fight 30 times, losing just once as he swiftly moved through the ranks, winning world titles at flyweight, super bantamweight, featherweight, super featherweight, lightweight, light welterweight, welterweight and light middleweight.
Pacquiao has been elected twice to the House of Representatives in the 15h Congress of the Philippines and was elected as a senator on a six-year term in June 2016. He is also is a reserve officer of the Army with the rank of lieutenant colonel.
Manny Pacquiao's career highlights
Fighting in the United States for the first time, Pacquiao beat South Africa's Lehlo Ledwaba at the MGM Grand in Las Vegas to win the IBF super bantamweight title.
In 2008, he stepped up to welterweight to take on six-division world champion Oscar de la Hoya. Some had speculated the step up in weight class would be too much for Pacquiao. He went onto dominate de la Hoya, forcing his corner to throw in the towel in the eighth round.
Destroyed Great Britain's Rocky Hatton in Las Vegas in 2009.
In 2012, he lost his WBO welterweight title to Timothy Bradley in a controversial split decision and five months later he was brutally knocked out by Juan Manuel Marquez, losing consecutive fights for the first time in his career.
After three back-to-back wins, his long-awaited meeting with Floyd Mayweather Jr was confirmed in February 2015; a fight six years in the making.
Billed "the fight of the century" Mayweather defeated Pacquiao via an unanimous decision. Despite failing to live up to the hype, the fight earned a record 4.4 million pay-per-view buys.
Pacquiao fought Bradley for a third time in 2016, beating the American for a second time before announcing his retirement to focus on his political career.
In November last year, he returned to the ring, beating Jessie Vargas to win the WBO welterweight title for a third time.
In February 2017, former sparring partners Pacquiao and Amir Khan announced they had agreed a fight for 23 April.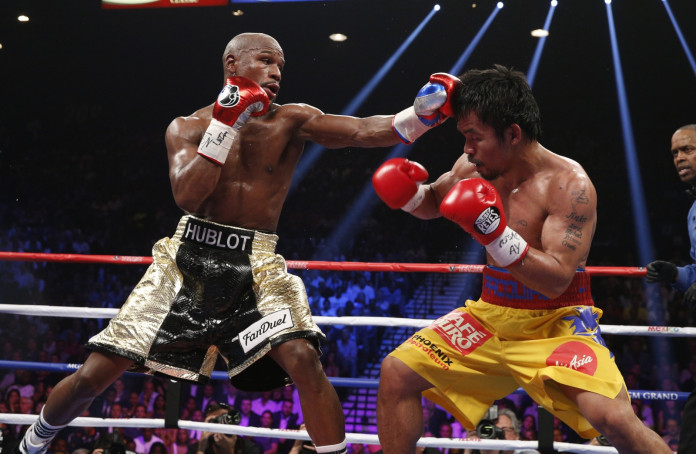 What is Manny Pacquiao's net worth?
Pacquao's estimated net worth is $250m (£204m), with his lifetime earnings making him the second-highest paid boxer after Floyd Mayweather Jr with $340m (£278), after according to the Richest.
When is Manny Pacquiao's next fight?
While there is still no venue, both Pacquiao and Khan have confirmed on social media they will fight on 23 April.
Should Manny Pacquiao have won the Mayweather fight?
According to Pacquiao, yes. "I thought I won the fight. He's moving around. It's not easy to throw punches when he's moving around so much. It's not about size. Size doesn't matter. I fought bigger. I thought I caught him many more times than he caught me."
Who has Manny Pacquiao lost to?
Pacquiao has lost six times in his glittering career. To fellow Filipino Rustico Torrecampo (1996), Medgoen Singsurat (1999), Erik Morales (2005), Timothy Bradley and Juan Manuel Marquez (both 2012) and Floyd Mayweather (2015).