Who is Marco Rubio? Republican hopeful tipped as the man to beat Donald Trump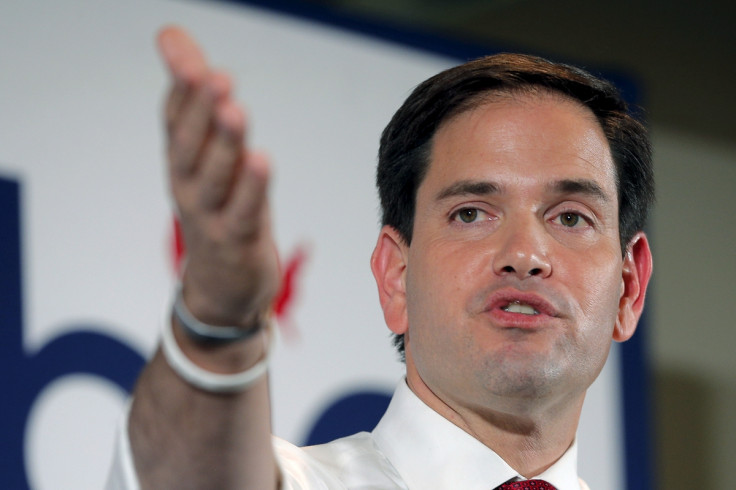 Republican candidate Marco Rubio has surged into second place behind Donald Trump in the latest polls. Despite attacks from fellow Republicans, the Florida senator is being touted as the leading contender against Donald Trump. When asked if he could save America from the billionaire property tycoon, he said: "There's only one Saviour and it's not me."
At a recent debate, he rallied evangelical Christians to his cause. "It's Jesus Christ who came down to Earth and died for our sins." The politician is a staunch Roman Catholic, but has also spent time in the Mormon Church.
In New Hampshire, Rubio warmed to his theme of uniting the right-wing party.
"If you vote for me and I am our nominee, I will unite the conservative movement and the Republican party," said the Florida senator. "We do not have to agree on everything but we agree on most things and the important things. If we are not together, we cannot win."
He has surged to second place in the polls in New Hampshire, where Republican and Democratic voters will pick their presidential nominees on 9 February.
Race for the top job
On 13 April 2015, Rubio announced that he would run for president in 2016. He initially won his US Senate seat with backing Tea Party, but his 2013 support for comprehensive immigration reform legislation led to a decline in that support.
Rubio's stance on military, foreign policy and national security issues — such as his support for arming the Syrian rebels and for the NSA — alienated some Tea Party activists.
During his campaign, Rubio has often pitched his candidacy as an effort to restore prosperity for middle and working-class families, who may find his working-class and immigrant background attractive.
Republican candidates New Hampshire approval ratings
Donald Trump – 30.7%
Marco Rubio – 16.4%
Ted Cruz – 12.0%
John Kasich – 12.0%
Jeb Bush – 9.1%
Source: RealClear Politics poll of polls
Rubio joined 22 other Republican senators in voting against reauthorising the Violence Against Women Act, stating that he largely supported it, but objected to certain new provisions added to the law while the reauthorisation bill was written.
Rubio identifies as pro-life and opposes abortion, including cases of rape and incest. Rubio has said: "I believe all human life, irrespective of the circumstance in which it came into being, is worthy of protection."
Rubio strongly opposed the US Supreme Court's landmark abortion rights decision in Roe vs Wade (1973), calling it a "historically, egregiously flawed decision" and "one of America's most blatant instances of judicial activism".
Rubio's detractors warn that the Cuban-American is untested and a risky bet for the party. The 44-year-old has also been attacked by Ann Coulter, a right-wing provocateur, who called him a "sweaty little Mario". At a Trump rally, she went even further, saying he "wears high heels".
On 14 March 2013, Rubio reiterated his opposition to same-sex marriage at the Conservative Political Action Conference, saying "that states should have the right to define marriage in the traditional way".
Rubio has four children and is married to Jeanette Dousdebes, 41, a former Miami Dolphins cheerleader. He speaks fluent Spanish, which will endear him to Latino voters.
Patty Giguere, a teacher from Laconia said: "He could win over Hispanics, he could win over moderates and he's not as crazy as the others. None of us is excited about Bush. We don't need another Bush. I'm scared of Trump – this is how people fall into dictatorships."
© Copyright IBTimes 2023. All rights reserved.