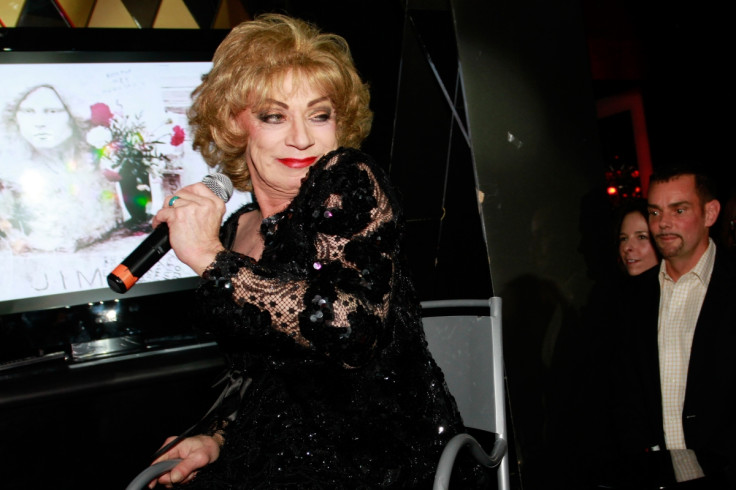 Holly Woodlawn, the transgender muse immortalized in some of Andy Warhol's greatest works, has died. The actress, who rose to fame in the 1970s, passed away on Sunday (6 December) in Los Angeles. She was 69.
According to The Associated Press, the star of underground films including Women In Revolt and Screen Kiss had been suffering from cancer, and received a hospital visit from former Trash co-star Joe Dallesandro before she passed. No other details about her condition have been made public.
Announcing her death in a Facebook post, Dallesandro wrote: "I arrived to the hospice and went to Holly's room, #403. I was next to her talking and telling her all the love that was being sent her way from everyone. It was like she knew I was there. I am sorry to say at 3:06pm Los Angeles time, Holly Woodlawn passed away".
At the height of her career Woodlawn inspired Lou Reed's 1972 song Walk On The Wild Side. In the song he narrated her trip to New York. The lyrics open with the lines: "Holly came from Miami, FLA; hitchhiked her way across the USA; plucked her eyebrows on the way; shaved her legs and then he was a she. She says, 'Hey babe, take a walk on the wild side.'"
Fans and fellow celebrities have since taken to social media to offer their condolences. Singer Marc Almond tweeted his respects, saying: "Sad news about Warhol Superstar Holly Woodlawn."
US rock band The Dandy Warhols added: "If you are of a certain age, Holly Woodlawn was the first trans woman you may have been aware of thanks to this song."