It's hard to overstate the importance of King Bhumibol Adulyadej of Thailand who, at age 86, has been readmitted to hospital in Bangkok for a medical check-up.
He's the world's longest-serving monarch and perhaps the most revered, hailed as a near-deity in politically turbulent Thailand. His portrait hangs on government buildings, on roadside billboards, in taxis and in living rooms and politicians often seem in competition with each other to proclaim their love for him.
Thai children are taught that respect for the king, patriotism and religious devotion are closely intertwined, lending the royal a seemingly divine status.
But concerns about who will succeed him after he dies, or abdicates, from his 64-year reign have become the central issue in Thailand's ongoing political drama, which has seen instability and political unrest rock the country for a decade.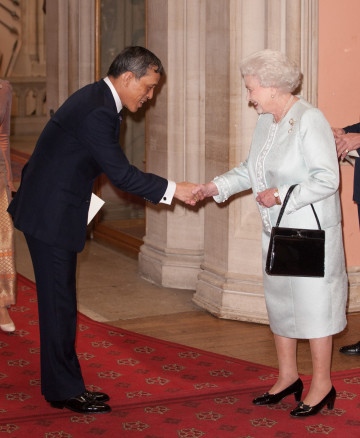 It's not yet clear who will succeed Bhumibol, who lived on a hospital ward in the capital for four years, from 2009, with respiratory problems.
However, it is widely believed that when he passes away, Thailand's constitutional monarchy will face an unsettling shake up and the likelihood of a power vacuum.
The 'rightful heir'
According to the constitution, the monarch's only son, Crown Prince Vajiralongkorn, will succeed him to the throne, but the prince is deeply unpopular among both the populous and establishment.
Lèse majesté has been law in Thailand for more than 100 years, effectively prohibiting anyone from speaking ill of the royal family, with a maximum penalty of 15 years in prison.
But Vajiralongkorn's private life is the subject of much controversy and he is often implicated in political scandals (with close ties to exiled former Prime Minister Thaksin Shinawatra) and embarrassing financial transactions and has a reputation for living a 'playboy lifestyle'.
The thrice-married prince is quietly referred to among Thais as "Sia O", a gangster name, due to his gambling debts.
The Economist reported, in 2010, that the prince is "widely loathed and feared" and "unpredictable to the point of eccentricity" and a diplomatic cable leaked by Wikileaks asserted Vajiralongkorn's gambling habit is funded by ousted Prime Minister Shinawatra.
However, the Palatine Law which ensures Vajiralongkorn's succession to the throne was enacted when Thailand was still an absolute monarchy, and some are calling for the present king to allow for a different succession scenario by amending the law.
The end of the monarchy?
The king could also choose not to name an heir before his death, in which case Thailand's Privy Council (a royally-appointed advisory body) can choose the successor, which could result in a woman – Vajiralongkorn's sister Sirindhorn, known to have significant support in the military – taking the throne.
Activists and academics are discussing proposals for a different solution – dissolving the monarchy in Thailand altogether. But politicians are yet to take up the cause publicly due to the harsh Lèse majesté law, the harshest of its kind in the world, with hundreds of people currently in jail because of it.
The entire issue is complicated by the current political angst in the country, which is once again controlled by the military following a coup d'etat on 22 May, and by the fact that the king's numerous assets make him the wealthiest monarch in the world with a fortune of between $10bn and $20bn, according to Forbes magazine.
The world's media will not watch to see whether his death, when it comes, will open the floodgates to change – or cause unprecedented social unrest – in the kingdom, as it did upon his first serious hospital stay in 2009.
"Everyone is waiting for the king to die, because they think Thailand will enter a new stage," said Giles Ji Ungpakhorn, an academic who fled to Britain after Lèse majesté charges were brought against him.
"Those red shirts [Republicans] think he is the most powerful man in Thailand and that when he dies there will be a power vacuum," but, he added, "I actually think the king is weak politicially".