Prime minister David Cameron slammed the Crimean vote for becoming part of Russia as "illegitimate and illegal," while foreign secretary William Hague denounced it as a "mockery of proper democratic practice".
Crimeans, a majority of whom are ethnic Russians, voted overwhelmingly for annexation to Moscow in the wake of a revolution that toppled Kremlin-backed president Viktor Yanukovich in Kiev.
The referendum was condemned by Western powers for breaching the Ukrainian constitution and because it was held under military occupation by pro-Russian forces.
As European Union leaders meet in Brussels to discuss further targeted sanctions, in response to Russia's annexation of Crimea from Ukraine, Cameron's strong words and support for tougher action means Britain will become part of the crackdown on the political crisis.
But what will it mean for Britain, as we are a lot more economically tied to the economic superpower than at face value analysis shows.
Russian Trade
Britain may be clawing its way back to becoming an exporting behemoth with a £1tn target, set out by Chancellor George Osborne, but Russia is already a major partner to the UK.
In 2012, the UK exported £7.6bn of goods and services to Russia.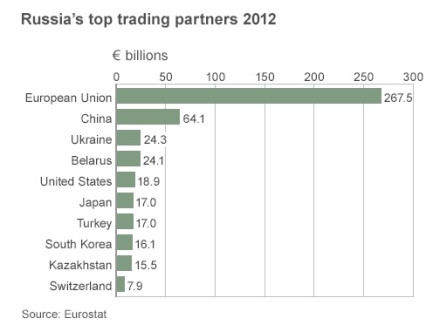 However, since Britain voiced its support the sanction, "we are therefore keeping under review our overall engagement with Russia," said the UK Trade and Investment.
"Some bilateral cooperation and trade support activity may be affected."
Overall, EU sanctions will massively affect the bloc as a whole as Russia is its number one trading partner.
Eurostat figures show that Russia accounts for almost 41% and trading reached record levels in 2012 [Figure 1].
Property
Britain's property market is booming, particularly in London, as wealthy Russians snap up the most expensive homes.
According to Savills, Russians spend on average £4.5m on London properties.
Furthermore, Russians bought 264 seven-figure homes in the capital, according to analysis by aviation company Beechcraft Corporation.
Land Registry figures also show that Russians spent more than £536m on acquiring their plush pads.
Russian Companies
Russian companies make up a large slice of Britain's financial markets.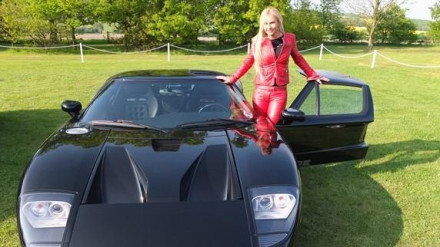 In 1990, only 19% of the FTSE 250 were foreign companies but as of the end of 2012, the figure more than doubled to 44%.
There are also now 113 companies from Russia and the broader CIS region with shares quoted on the London Stock Exchange, thanks to the commodity boom as of the turn of the century as more than two-thirds of these companies are oil and gas or mining companies.
Lifestyle
Russian oligarchs have become a rooted part of London life over the last few years as the capital has become a playground for the uber wealthy.
As deliciously detailed in the Fox programme Meet the Russians, spending £64,000 on shopping sprees in the capital's shops and thousands on one meal or hundreds of thousands of pounds on a bar tab, do a lot to help bolster London's finances.
According to the UK Border Agency, there are around 300,000 Russians currently living in London and around 100 'Tier 1' visas were granted to Russians over the last year in 2013.
'Tier 1' visas are issued to foreigners who have at least £1m to invest in the UK.
Considering 110 Russian billionaires control 35% of the Russia's wealth, this is pretty hefty.