Brendan Eich held the position of CEO at Mozilla, the company he co-founded 16 years ago, for a little more than a week.
On Thursday the company which prides itself on openness and inclusiveness, announced that Eich had "chosen to step down from his role as CEO. He's made this decision for Mozilla and our community."
But it is clear to anyone who has been following the story that Eich's decision was made for him. In an interview with Re/code following the announcement, Mozilla chairwoman Mitchell Baker said:
"It's clear that Brendan cannot lead Mozilla in this setting. The ability to lead — particularly for the CEO — is fundamental to the role and that is not possible here."
Eich had been under fire from day one, with a vocal group of Mozilla employees quickly voicing their outrage at the appointment, setting up a petition calling for Eich to step down. This was a sentiment echoed throughout the LGBT community.
Donation
The reason for such outrage was Eich's 2008 donation of $1,000 to support Proposition 8, a ballot to outlaw same-sex marriage in California.
The donation first came to light in 2012, but the scandal resurfaced last week when Eich was appointed CEO.
A series of interviews this week - along with blog posts from Eich, Baker and even Mozilla itself - failed to quell the ire of the angry mob calling for Eich's head.
Indeed Eich himself, when pressed in interviews, would not come out and give the mob the one thing which they wanted more than anything else, an apology and a recanting of his beliefs that same-sex marriage was wrong.
Standing up for his beliefs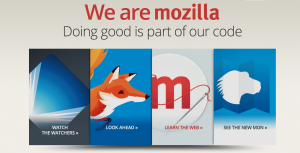 He told the Guardian and CNET that he didn't want to talk about the donation or his current views on same-sex marriage, effectively telling the world that he hadn't changed his mind and would not back down.
And standing up for his beliefs is what saw Eich fired resign.
The problem for many now is the hypocrisy of a vocal group within the gay rights moverment being intolerant of a man for stadning up for his beliefs - not matter how abhorent you may find them.
Backlash
The whole debacle has led to a backlash against those who seem to be revelling in Eich's downfall, with blogger and long-time gay rights activist Andrew Sullivan saying in a post entitled The Hounding of a Heretic, that he is "disgusted" by what has happened:
"Will he now be forced to walk through the streets in shame? Why not the stocks? The whole episode disgusts me – as it should disgust anyone interested in a tolerant and diverse society."
Sullivan questioned the legitimacy of certain people within the gay rights movement being so vocally intolerant of other people's views:
"You want to squander the real gains we have made by argument and engagement by becoming just as intolerant of others' views as the Christianists? You've just found a great way to do this. It's a bad, self-inflicted blow. And all of us will come to regret it."
Sullivan says his inbox has been inundated with emails from readers of his blog, though he said "only a small percentage of emailers are as disgusted as I am."