The plane from Belgrade to Istanbul landed in Ataturk Airport on 23 March at 2pm. I had just enough time to rest before my parents arrived at Sabiha Gokcen, the other city airport, to celebrate the Eastern break with me in Turkey, where I had planned to live.
As I walked towards passport control, I was thoughtful. I had applied for the Turkish press card, which had become mandatory on the border and Aegean Sea areas strictly patrolled by the local police, but after more than a month I was given no answer.
Trusting what the Turkish ambassador told me, such as, "The press card isn't needed in places like Istanbul or Ankara", I shrugged my shoulders and thought: "I will enjoy this holiday with my family and after that, until I sort these papers, I won't move from here."
Standing still in front of the custom officer I felt stupidly paranoid. He typed my passport number on the keyboard but instead of letting me go, lifted the receiver. He put it down, which made me think it was part of the procedure, but he then did it again, saying resolutely: "Wait here."
A guy in a sandy uniform would soon lead me few meters away to the so-called "no man's land". If it was because of all the stamps on my passport, I was ready to justify them, but it was not.
Sent to Serbia
"The Ministry is prohibiting you from entering the country for security issues," I was told.
I froze instinctively and asked for an explanation, but to no avail. "You will be deported to Serbia," was their one and only answer. I was sad and angry, because the whole thing was out of my hands, but quite dismayed too.
"To Serbia? I am an Italian citizen residing in Italy and I was in Serbia for work. Send me back home, please." My tears didn't help.
A few days before, in the aftermath of the Ankara bombing that killed 37 people, President Erdoğan had claimed that there was an imminent need to redefine terrorism, as in his opinion there was no difference between "a terrorist holding a gun or a bomb and those who use their position and pens to serve the aims of terrorists". The head of Turkey put the outlawed PKK (Kurdistan Worker's Party), Islamic State, journalists, lawmakers and activists all at the same level as enemies of the Turkish state.
A fettered press
Today freedom of the press is at its lowest in Turkey. The situation is not just grim for local journalists, but also for the foreign ones. Together with high profile cases like the three Vice News journalists arrested for allegedly supporting a terrorist organisation in August 2015, others have either been deported for criticising the government on Twitter or, like Der Spiegel's correspondent Hasnain Kazim, forced to leave the country, as their press cards were not renewed.
Moreover, freedom of expression has been broadly denied to those allegedly linked to the Kurdish movement since last July, when the ceasefire between the PKK and the Turkish government was broken and a civil war burst out in the southeast. The latest victim was – as if on purpose – a 22-year-old Italian woman, who was arrested and deported two days before me, with the accusation of "being a spy who received training from the PKK."
"She might be naïve", her father told the Italian press but, "She is a fresh graduate and she supports Kurds only for humanitarian reasons."
My stream of consciousness was interrupted when a policewoman opened a reinforced door and, looking at me scornfully, pointed inside.
I thought they would board me for Serbia but instead I was left inside a windowless concrete cube, sitting on an unstable iron chair, for almost 30 hours. With me in the "Problematic Passengers Room" were at least 20 women and 10 kids who – like wild animals in a cage – would run and shout round the clock.
"Wi-fi? International phone calls?" Shapnab, an Afghan woman, asked me. I was relieved she could speak English but even more relieved that I was carrying my Turkish sim card with me and didn't have to depend on her hefty phone rates, like the other women did.
Shapnab and her mother had been stuck in there for a month. Her brother and father were detained in the men's section and they could see each other an hour per day.
"After some time I managed to negotiate with the guards," she told me, lowering her voice and looking upwards, where several cameras were hanging down the ceiling. "A month in this place?" I asked opening my eyes wide.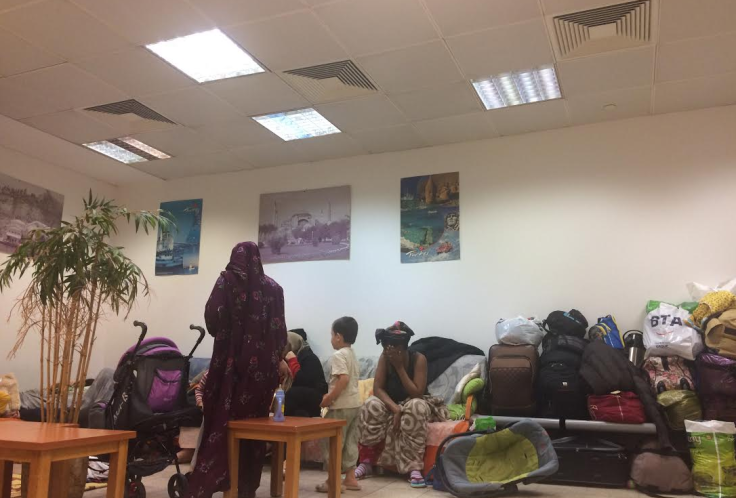 Life in the Problematic Passengers Room was miserable. Women from Afghanistan, Pakistan, Syria and Cameroon would spend their days half asleep, or glued to their phones, sometimes unfolding their rugs and praying. The only moment of interaction was the arrival of the precooked food from the airline companies. I, the newly arrived, had to wait until the morning after my detention to be given an Air Serbia tray containing an inedible slop. "Take this,"
I, the newly arrived, had to wait until the morning after my detention to be given an Air Serbia tray containing inedible slop.
"Take this," Shapnab told me, picking up a greasy deep-fried chicken wing from her tray. I felt sick, but unable to refuse.
I couldn't sleep because of the neon lights that were turned on day and night, the kids constantly yelling and poking at me, such as their new attraction, and the high-pitched laughs of the police on the other side of the walls. I couldn't read or write too, because I was exhausted.
Imprisoned in an airport
It was then that Shapnab sat next to me. She grew up in a well-off family and, after studying English at the university, became a teacher. Then the Taliban gained power.
"I would always tell my pupils to stay far away from them but one day the Taliban came to our house and, pointing a gun at my father, threatened to kill us all," Shapnab said.
"I would always tell my pupils to stay far away from them but one day the Taliban came to our house and, pointing a gun at my father, threatened to kill us all," Shapnab said."My father sold all his properties and bought four flight tickets to Istanbul."
They thought they would get easily asylum. But, because of a new Turkish policy, denounced by Amnesty International on that same 23 March, they were pushed back at customs.
"We insisted so much that they let us stay here," Shapnab said.
After two months Shapnab is still waiting at Ataturk Airport, whilst Farah and Benazir, two Pakistani sisters with a similar story, opted to be sent back to their country.
"Although this will probably mean getting killed, we need to leave, because we're getting crazy here," Farah told me with tears rolling down her cheeks.
What happened to me was nothing compared to what those women were facing and I felt sad and stupid. I barely managed to scribble their names on a piece of paper, when the customs officer entered the room: "Get your things. It's time to go."
I bid farewell to all of them and left. I was escorted to the gate and then up to the plane towards the last row of seats.
"When the plane lands, you will have to wait for the other passengers to get off and an officer will pick you up," the hostess said, making me feel worse than I already felt.
Once in Belgrade two policemen escorted me out. While we sneaked across the passengers' crowd, everybody was staring at me, perhaps wondering what crime I had blemished myself with. The Serbian police were kind but had to abide by the procedure, which meant they had to write a report on my deportation, before letting me go.
As they started reading the papers they got from the Turks, they cast a quizzical look at me: "We can't figure out the reason for your entry ban. Do you have any idea, perhaps?"
I shrugged my shoulders once again and finally, with an entry ban to Turkey but no explanation given, I was out of the airport and back to be free.