As the war on single-use plastic continues, more and more of us are diligently recycling bottles, hoping to slow down the destruction of our planet. But despite those efforts, we have a way to go before our plastic gets reused in the ways we'd hope.
Following a ban on plastic bags and microbeads in the UK, the government has unveiled a 25-year plan to protect the environment.
Prime Minister Theresa May announced supermarkets will be put under pressure to create "plastic-free" aisles. Elsewhere, similar to the current plastic bag charge, takeaway containers and other single-use plastic could also be subject to a levy in the future.
And as recent headlines about disposable paper coffee cups highlighted, the lamination on many containers means they cannot be processed at recycling plants – despite the best intentions of those putting them in the correct-coloured bins.
Meanwhile, the packaging that does get recycled doesn't necessarily end up being used to make more of the same products.
Only a small proportion of products are made entirely of recycled goods, Richard Kirkman, the UK and Ireland chief technology and innovation officer for resource management giant Veolia, recently told The Independent.
Each year, just 14% of plastic packaging is recycled worldwide, while 8m tons of plastic finds itself in the Ocean, according to a 2017 report by the Ellen MacArthur Foundation.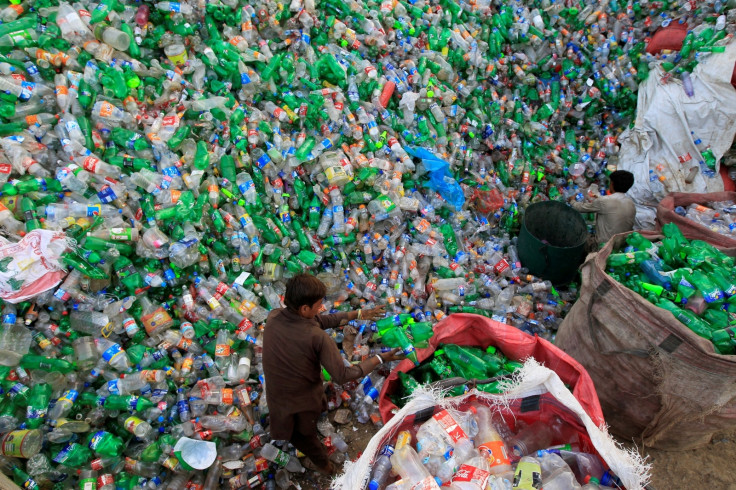 Coca-Cola uses 7% of recycled materials in its plastic, while the figure for Nestlé Waters North America was 6%, manufacturers told BuzzFeed News. The largest soft drinks firms aside from Coca-Cola use 6.6% of recycled plastic, according to a Greenpeace report.
Instead of being made into new bottles of drink as you may expect, most of these vessels are turned into synthetic fabrics for clothing, carpets, bags and packaging. Even then, they are combined with virgin fibres to up the quality and strength.
And thanks to a recent drops in oil prices, it is now cheaper to use new plastic than recycled.
In addition, the cycle of reuse ends alarmingly quickly. Carpets made from recycled bottles are generally not repurposed, Leon Farahnik, who owns CarbonLite, told CNBC. His business processes recycled plastic to make it easier for clients, including Nestle and PepsiCo, to turn it into bottles.
"Fifty years from now, when I am not around, people will be digging landfills and thinking we were crazy people — how could we create landfills rather than recycle?" said Farahnik.