Prince Harry reportedly had a Facebook account that his fiancée Meghan Markle wouldn't have been too keen on seeing.
The 33-year-old royal – whose life has been in the public eye since he was born – attempted a somewhat normal life on the internet by creating a Facebook profile under the name Spike Lee.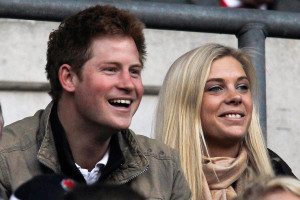 He had the account for four years and shared pictures and status updates just like a normal member of the public, according to The Mirror.
But like many youngsters, the redheaded royal posted snaps of his then-girlfriend Chelsy Davy, who he had a turbulent relationship with from 2004 until 2010.
Harry used the fake name of Spike Lee to ward off any unwanted friend requests and is understood to have had roughly 400 friends on his now-deleted account.
The prince reportedly shut the account down in 2012 shortly after pictures of the then 27-year-old playing strip poker in Las Vegas emerged.
The report comes as former Suits actress Markle, 36, removed herself from social media at the start of the year, getting rid of her Facebook, Instagram and Twitter accounts.
She now relies on the official Kensington Palace social media platforms to provide an insight into her working life as a nearly-royal with fiance Prince Harry. The social media team have zealously documented her public engagements to the likes of Nottingham, Brixton, Cardiff and Edinburgh in the run up to the spring wedding.
It hasn't all been smooth-sailing for the couple, however, as it was reported earlier today that a suspect letter containing white powder was addressed to them and sent to Kensington Palace.
The letter prompted a security scare despite it being intercepted before reaching them at Nottingham Cottage, with it being feared that it could contain anthrax, according to The Evening Standard.
Terror police are said to have been called to the palace after the letter was sent on 12 February – just one day before they revealed a suspect package had been sent to the couple.
Markle and Harry were allegedly informed of the incident, and tests have since revealed that the powder was harmless. Scotland Yard is now said to be on high alert for the royal wedding in May.