WikiLeaks emails show Clinton was told Saudi Arabia and Qatar were secretly funding Isis
The email is one of 2,086 emails released by the whistleblowing outfit WikiLeaks.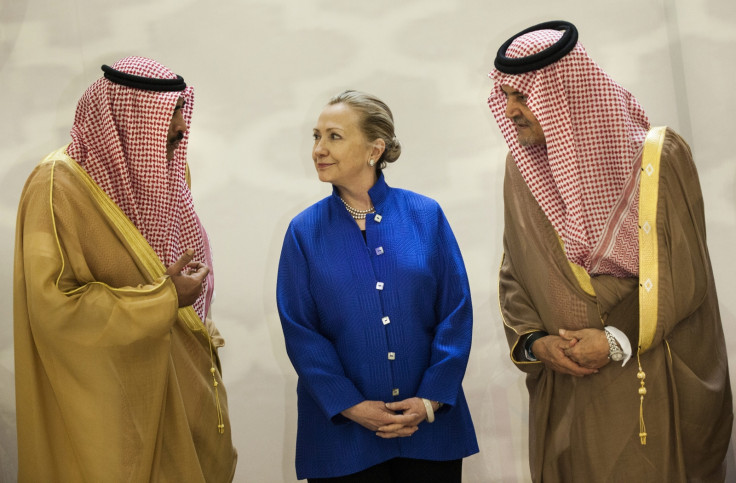 Emails released by WikiLeaks, belonging to Hillary Clinton, have shown that while in position as Secretary of State the presidential nominee was advised Saudi Arabia and Qatar were secretly funding Isis.
The email dates back to September 2014, when the Islamic State was almost at the height of its power. In an exchange with John Podesta, now Clinton's presidential campaign chairman, the former Secretary of State was advised to put pressure on rival Sunni nations as a necessary measure to defeat the Islamic State.
"We need to use our diplomatic and more traditional intelligence assets to bring pressure on the governments of Qatar and Saudi Arabia," Podesta wrote to Clinton.
He added the two countries were: "providing clandestine financial and logistic support to ISIL and other radical Sunni groups in the region".
The email between the two Democrats showed they wished to shift policy also with regard to Turkey, giving their full backing to Kurdish allies in the region.
"Armed with proper equipment, and working with US advisors, the Peshmerga [Kurdish rebel forces] can attack the ISIL with a coordinated assault," Podesta explained. In the past a deal with Turkish general staff had stopped the US arming Kurdish rebels with heavy weapons.
"The current situation in Iraq, not to mention the political environment in Turkey, makes this policy obsolete," he wrote.
The email with the subject line "Congrats!" is one of a second batch released among 2,086 by the whistleblowing outfit WikiLeaks. The emails were leaked onto the web one week after an initial dump of 2,060 messages and 170 attachments.
WikiLeaks claimed the first publication was only 1% of the total collection. At the second presidential debate, which saw Clinton square off against Republican rival Donald Trump, WikiLeaks was namechecked as playing a key role in the Russian campaign.
"Our intelligence community just came out and said in the last few days that the Kremlin, meaning Putin and the Russian government, are directing the attacks, the hacking of American accounts to influence our election," Clinton said when asked about the WikiLeaks' releases.
Trump has used the leaked emails to attack Clinton and has said he would put in her in jail if he became President over her decision to store confidential material on a private server.
© Copyright IBTimes 2023. All rights reserved.