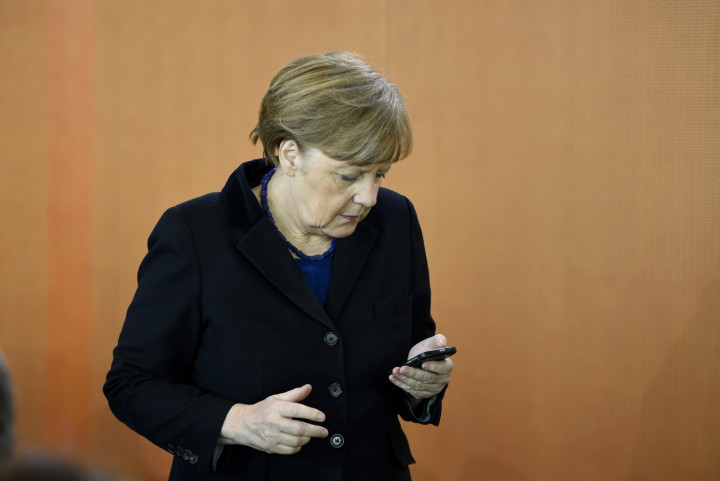 The US National Security Agency (NSA) spied on German Chancellor Angela Merkel and her closest aides for years and tapped the phones of the staff of her predecessors, WikiLeaks said.
The whistleblower website claimed the NSA targeted 125 phone numbers in the German chancellery for long-term surveillance, citing "top secret" documents from the spy agency.
It said the numbers tapped belonged to Merkel's top officials, her aides, her chief of staff, her political office, and even her fax machine, and that the list had been updated from an earlier one extending back "to the 1990s."
"The names associated with some of the targets indicate that spying on the chancellery predates Angela Merkel as it includes staff of former Chancellor Gerhard Schroeder, and his predecessor Helmut Kohl," WikiLeaks said.
The report could reignite a row between Germany and the US that erupted following similar allegations of NSA spying on Merkel in 2013.
The initial allegations of NSA spying against Germany in 2013 sparked public outrage, with Merkel saying "spying between friends just isn't on".
The US did not explicitly deny the allegations at the time but assured that the chancellor's phone would not be bugged in the future.
"The intensive nature of US targeting around the chancellor explains why the White House could easily commit to not targeting Angela Merkel personally in the future, but continues to refuse to make such a commitment for other members of the German government – the chancellor cannot run the government by talking to herself," WikiLeaks said.
Germany's investigation of the alleged phone tapping was dropped last month due to a lack of evidence.
In its latest release, WikiLeaks published three secret files from the NSA based on intercepts of Merkel's private conversations.
One of the files, from 2011, is about the chancellor discussing the draft of the European Financial Stability Facility (EFSF). Another one, from 2009, showed Merkel wanted banks to share the responsibility in dealing with toxic assets during the height of the global financial crisis.
The third file - also from 2009 - relates to a private discussion between Merkel and Prince Shaykh Muhammad bin Zayid al-Nuhayyan of the United Arab Emirates.
More about Wikileaks