More than 1,000 Afghan protesters clashed with armed forces as they took to the streets of Kabul on Friday (2 June) demanding President Ashraf Ghani's resignation following this week's deadly blast in the capital city.
About 90 people were killed and more than 450 were injured after a bomb, concealed in a water delivery truck, went off during rush hour at Kabul's busy diplomatic centre on Wednesday, 31 May.
Demonstrators marched towards the site near Zanbaq Square, on Friday, carrying pictures of the blast victims. They squared off with police, who fired into the air and resorted to tear gas and water cannons to quell the angry crowd.
The protesters held Ghani and Chief Executive Abdullah Abdullah responsible as they accused the leaders of having failed to ensure security in the country. They were holding banners that read: "Ghani! Abdullah! Resign! Resign!"
"The international community has to put pressure on them and force them to resign," Niloofar Nilgoon, one of the protesters, said."They're not capable of leading the country."
Wednesday's attack came just as Ramadan – a month considered holy by Muslims – began, underscoring the growing violence across several parts of the country. The blast was for one of the deadliest in the country since the US-led campaign to topple the Taliban in 2001.
The attack is also reported to have highlighted the ability of Islamic militants to strike even a heavily fortified area where 3m (10ft) high blast walls protect the foreign embassies and government offices.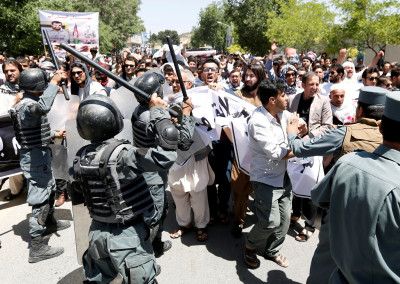 Taliban denied any role in the attack. However, no other group has come forward to claim responsibility. But Afghan intelligence officials blamed the Haqqani network, the Taliban-affiliated militant group, for the blast.
The incident came as the resurgent Taliban has been stepping up its annual "spring offensive" in the country.
During the rally, demonstrators also demanded that the Ghani administration execute prisoners from the network.
"Until we do that, we won't have peace. The only way to get security is to punish criminals," Reuters cited one protester as saying.