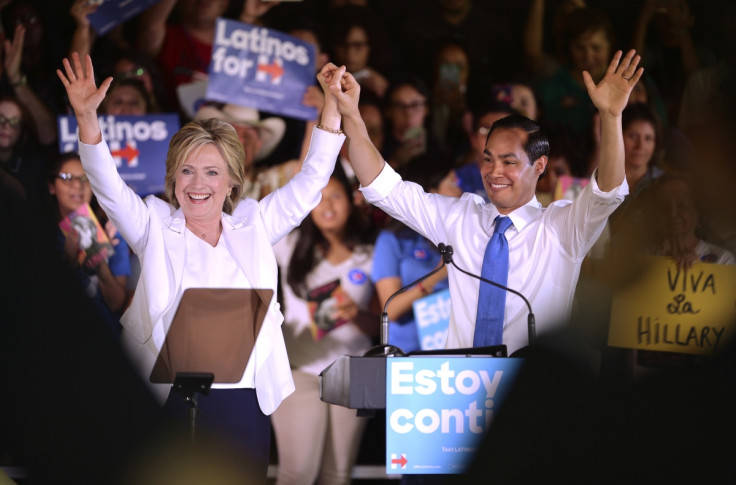 It seems presidential candidate Hillary Clinton is already trying to decide who her campaign running mate will be, even before cinching the Democratic nomination. Clinton nabbed the backing of Housing and Urban Development Secretary Julian Castro on 15 October and said she would seriously consider making the Latino leader her choice for vice president if she wins the nomination.
"I am going to look really hard at him for anything, because that's how good he is," Clinton told attendees of a US Hispanic Chamber of Commerce meeting in San Antonia, Texas, when she was asked if he might be her running mate pick. Choosing Castro could help Clinton solidify her support among Latino voters.
Reuters reported Castro later appeared alongside Clinton at a "Latinos for Hillary" rally, where he said he respected Clinton's ability to appeal to individuals of different backgrounds. "Through the years she has always, always been there for us, and today we're here for her," Castro said.
Clinton told the rally audience that she was the right candidate for them. "I know you have heard a lot of politicians asking for your support at election time. And then they disappear the rest of the time," she said. "But that is not me. That has never been me. Your fights are my fight, they always have been and they always will be. I am standing with you today just as firmly and proudly as I ever have."
The former New York senator added she was "thrilled" to have the "support and endorsement" of the former San Antonio mayor. "Julian, thank you, not only for those kind and stirring words, but for your leadership."
Castro is the second member of President Obama's Cabinet to endorse Clinton in her bid for the White House. He is also the second member of his family to endorse the former secretary of state. Castro's twin brother Joaquin, a US congressman, endorsed Clinton and campaigned with her in Nevada, Reuters reported.
Castro's support follows a strong performance by Clinton during the first Democratic debate on 13 October. Clinton, who is already a favourite among non-white Democratic voters, spoke sharply against anti-immigration rhetoric by Republicans. The debate also garnered her more support from apprehensive voters.
"She showed herself to be presidential, she was the most presidential candidate up there in my opinion," 64-year-old Angela Culley, a resident from Maryland who works for Nasa, told CNN. "It brought a lot of excitement to everything."