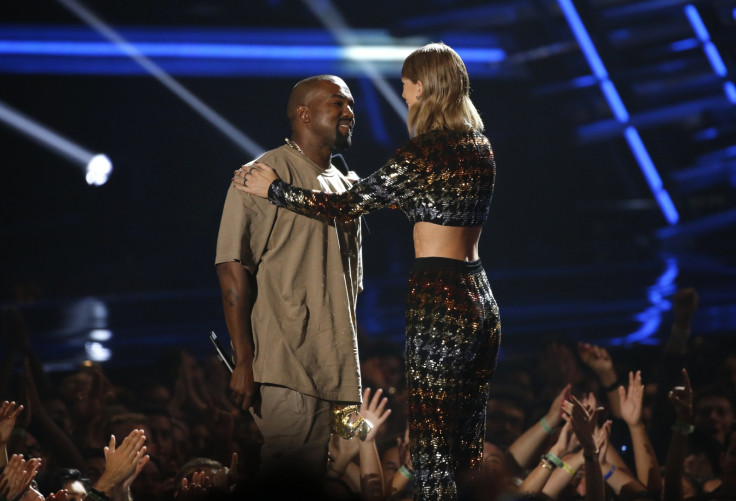 The recent spat between Kanye West and Taylor Swift could finally end as a new report has claimed that the rapper is planning to call it truce during the MTV Video Music Awards 2016. According to TMZ, the American rapper has been given four minutes on stage which he can use to sing, dance or talk.
"Ye [West has] 4 minutes to do with as he pleases. He can rap, sing, dance or even just stay silent," a source related to the production house of the awards ceremony told the gossip website. Hollywood Life also speculates that the 39-year-old could use the time to end his feud with the Shake It Off hit-maker.
"Taylor was never scheduled to attend the VMAs," an insider told People. The Life Of Pablo singer was furious at the 26-year-old songstress after she claimed that she was left in dark about the lyrics of his song Famous. There are references to Swift in the song, where the singer raps, "I feel like me and Taylor might still have sex. Why? I made that b***h famous."
West has often been accused of talking too much during award ceremonies. During last year's VMAs, the Yeezus artist was awarded the Michael Jackson Video Vanguard Award, where he gave an 11-minute long speech and announced that he would run for the 2020 US presidential elections.
It remains to be seen whether Kim Kardashian's husband would escalate his rift with Swift or will make efforts to patch things up.
Soon after the West-Swift rift came into the spotlight, Kim leaked a telephone conversation where someone – seemingly Swift on the other side of the line – was listening to West read out lyrics of the song. She also claimed that her "husband gets so much shit for things [when] he really was doing proper protocol".
"She totally approved that. She totally knew that that was coming out," the mother-of-two told GQ before releasing the videos through Snapchat.
Meanwhile, Hollywood Life reports that the rapper is all set to express his feelings for the Blank Space singer during his Saint Pablo tour ahead of the MTV Video Music Awards. "He has a love/hate relationship with Taylor and is planning on vent about her to the crowd. Kim already called Taylor out as a faker, so he's ready to move past the drama," a source told HollywoodLife.
"Kanye's fans are like his therapy. And when it comes to Taylor, he needs a LOT of therapy. He's keeping most of the specifics about Taylor to himself at the moment, but rest assured his show tonight will be out there," the source added.