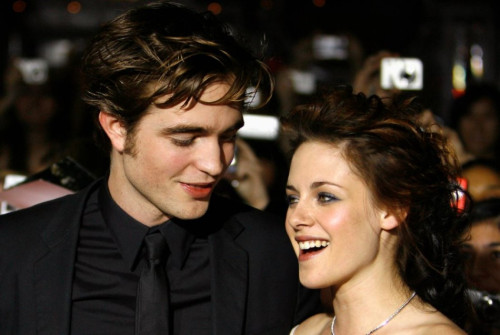 Growing distance between Robert Pattinson and Kristen Stewart negates rumours suggesting that the Twilight couple is rekindling their romance. Reportedly, their hectic work schedule is a major factor for the couple drifting further apart. Caught between the couple's relationship drama are their mutual friends, the latest one being "Lights" songstress Ellie Goulding.
According to Mstarz, Goulding who worked with Pattinson and Stewart on Twilight (she was featured on the soundtrack), is very good friends with the couple. Owing to the "England connection", the 27-year-old singer immediately connected with the British heartthrob and in turn also struck up a friendship with Stewart.
Goulding (rumored ex-girlfriend of One Direction crooner Niall Horan) is keen on the couple reuniting once again at this year's Coachella Music Festival (where she's set to perform).
"Ellie's really good mates with both Rob and Kristen and used to spend time with them as a couple. Since their break-up, she still hangs out with both of them, but separately," a source reveals to Now magazine UK. "Ellie wants both her friends to be [at Coachella]. It's one of the biggest events of the year for her... But she knows her mates can't even be in the same space as each other right now, so she's feeling caught in the middle."
As most K-Stew and R-Patz fans probably remember, the couple was spotted "snuggling" at last year's (2013) Coachella Music Festival. In fact, that is when their "getting back together" rumours began.
Meanwhile, another pretty actress who apparently shares a long history with Pattinson, recently opened up about the actor.
Holliday Grainger, the pretty star of The Borgias and, most recently, A&E's miniseries Bonnie and Clyde, talked about the time she spent with Pattinson and states just how genuine he has remained over the years, reports The Stir:
"I've known him since his pre-Twilight days when he was a normal person and it was still like, 'ooh you're playing Cederic Diggory.' He's managed to keep very level headed and normal. I don't understand how. I can't fathom the idea of living a life like he lives," Grainger said.
"On the set of Bel Ami in Budpest there would be hundreds of screaming girls there at 5 am and they would still be cordoned off when we finished," she continued. "He had to move hotels because there were so many people outside his. One day he was signing autographs on the way home from work at 6 am after a night shoot. Bless him, that's an extra level of hard."
Watch the new trailer of Robert Pattinson's upcoming film, The Rover: