Will Zac Goldsmith distance himself from the anti-Israel and 'holy war' comments of Imran Khan?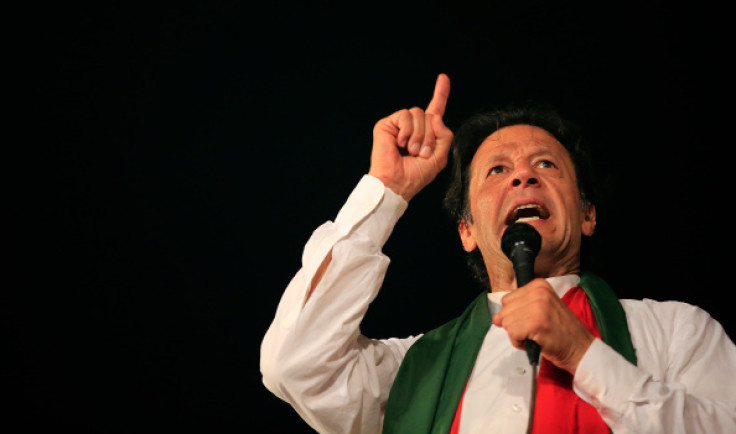 Questions have been raised over Zac Goldsmith's links to Imran Khan after it re-emerged that the Pakistani politician had reportedly described the Taliban's fight in Afghanistan against the US and British forces as a 'holy war' justified by Islamic law, as well as claiming Israel was behind an 'international conspiracy' to divide the Muslim world.
"The people who are fighting in Afghanistan against the foreign occupation are fighting a jihad," the former international cricketer apparently declared. Khan, who was married to Goldsmith's sister, Jemima, reportedly made the comments in 2012, after the Taliban targeted and shot Malala Yousafzai.
The Pakistan Tehreek-e-Insaf (PTI) chairman has since backed Conservative candidate Goldsmith for the mayor of London election, describing his former brother-in-law as a "man of integrity with a commitment to justice".
The move comes after the top Tory reportedly endorsed Khan to become the prime minister of Pakistan, praising the PTI leader as "honest and strong".
The London mayoral candidate is also facing questions about his links to Khan over a series of anti-Israel comments similar to those that have seen the Labour Party accused of harbouring anti-Semites within its ranks.
The left-wing blog Political Scrapbook has highlighted Goldsmith's links with Imran Khan, in light of his alleged comments about the Taliban and Israel. IBTimes UK asked the Conservative hopeful's team for a comment on the matter, but had not received a response at time of publication.
According to Political Scrapbook, on several occasions Khan went on record in Pakistan to denounce Israel as a global warmonger. In one interview, he claimed: "There is a global war, and Israel is behind it. There is an effort to get Muslims to fight each other, make Shias and Sunnis fight." In another, he apparently said: "What has Iran done to anyone? It's in front of you. Israel is pushing the whole world. Israel's full power is being deployed and it controls America, so what can Iran do?"
Goldsmith has attacked Labour hopeful Sadiq Khan for sharing speaking platform with alleged extremists and branded the Muslim MP as a "radical".
The Conservative candidate has defended his campaign, stressing he made the comments in a political context and arguing that it was entirely legitimate to question Khan's links.
"I think it's absurd to pretend that asking questions about someone's links to people who want to do harm to this city are out of bounds. That just doesn't make sense to me at all, it doesn't make sense to anyone," he told IBTimes UK.
Likewise, the PTI's international media co-ordinator, Anila Khwaja, had not responded to a request for comment at the time of publication. But Khan has previously defended himself over the Taliban issue in the past.
"This is a deliberate attempt to make two camps, either you're anti-Taliban or you're pro-Taliban," he told Huffington Post in 2014. "It's just such a naïve way of looking at a very complicated issue, which I understand more than others."
He added: "I wrote a book, 20 years back, The Warrior Race, which was on the tribal areas and I'm probably the only male politician who has been throughout the tribal areas. I always spoke out against military action. I said there would never be a military solution and it would end up complicating things."
© Copyright IBTimes 2023. All rights reserved.