Prime Minister Theresa May has been urged to scrap the Fixed-Term Parliament Act and call for an early general election by former Conservative leader William Hague.
Writing in the Telegraph on Monday (6 March), Hague argued "trouble is coming" as the government negotiates Brexit and a large majority in the House of Commons is needed to push the changes through.
The peer said that had the 2011 law not existed, the case for an early election in the current political climate was "very strong indeed".
It comes as polling suggests opposition leader Jeremy Corbyn is struggling to retain his popularity among Labour voters and stands unlikely to pose a threat to May if there was to be an election this spring.
Hague said given that "the Labour Party [is] in its worst condition since the early Thirties, and with its least credible leader ever," the chances for May to secure a large majority would be great.
Such a majority would ease the pressure on May as she tackled an array of difficult issues, according to Hague.
"We have a new prime minister and Cabinet facing the most complex challenges of modern times: Brexit negotiations, the Trump administration, the threat from Scottish nationalists and many other issues," he said.
"There is no doubt that they would be in a stronger position to take the country through these challenges successfully if they had a large and decisive majority in the Commons and a new full term ahead of them."
May has made it clear she does not favour an early election, arguing that she would create added uncertainty at a time when the country needs stability.
However, Hague believes a strong majority would strengthen the prime minister's hand as she negotiated with the EU.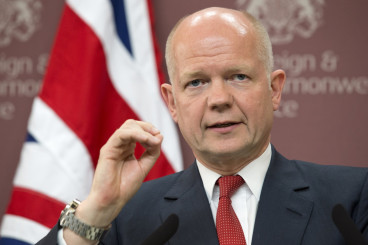 "All through the difficult and momentously important talks with Brussels which are about to begin, the European Union negotiators will be conscious that the Government is not in a strong position in its own parliament.
"That knowledge will allow them to adopt a harder stance than otherwise.
"Already they will have noted that they only have to refuse to do an early deal on the rights of British nationals in the EU for the House of Lords to vote to guarantee the rights of EU nationals in Britain unilaterally."
He added that an early election would tackle such problems and "would have her [May's] hand strengthened, particularly if the voters remain on her side."