Labour must "get over themselves" and start effectively holding Theresa May to account for the sake of the UK, Gina Miller, the woman who forced the government to put Article 50 to a House of Commons vote, has said.
In a wide-ranging interview with IBTimes UK, the investment fund manager and philanthropist also warned of a "power grab" by the Conservatives.
"Whenever there's been rises in populism, there's also been a rise in an autocratic dictatorship of those in an elite, self-interested, conflicted, wealthy [class]. That's what I can see happening again," the self-styled "history geek" said.
Miller, 51, cited recent research from the Hansard Society.
The organisation highlighted the use of so-called "Henry VIII clauses" or delegated legislation, which enables acts of parliament to be scrapped or amended without going through the normal process and scrutiny of tabling new laws.
Great Repeal Bill
The Hansard Society said the government used the controversial move in 16 out of 23 bills last year and ministers could plan to use the powers as part of the Great Repeal Bill.
Draft legislation will be tabled later in 2017 and is designed to repeal the 1972 European Communities Act, while incorporating all EU law into UK law the moment Britain splits from the bloc in 2019.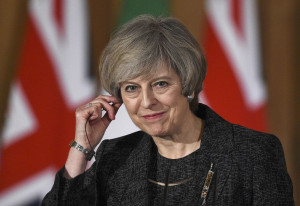 "There is a real power grab happening in government and when you don't have an effective opposition that's not a democracy," Miller said.
"My principal and my passion is to defend the rule of law and our democracy and our sovereignty. I think it's disgraceful that I've actually got to do the job of the opposition. If they were being effective, I wouldn't have to. I've got enough on my plate."
Labour: Fundamental things wrong
But Miller, a Remain and Labour voter, does not just blame Jeremy Corbyn for the party's "complete disarray" with Labour up to 18 points behind the Tories in the opinion polls.
"Even if Corbyn went I don't think the Labour Party would win [the next general election]," she said.
"They have to decide what their policies are, who is it that they represent and are they relevant in the 21st century?
"Because there are so many fundamental things wrong in the structuring of the party, the influence of the NEC [National Executive Committee] and the unions. Until they put all of those things together and get all of those things right, I just can't see how they are ever going to come to power."
The Blair and Mandelson vaudeville show
Miller is also critical of New Labour peer Peter Mandelson and ex-prime minister Tony Blair. Mandelson admitted recently that he worked "every single day" to bring down Corbyn.
"Blair, Mandelson etc are like an old vaudeville act. I think their day is over," she said.
The businesswoman, who described herself as a "progressive politician", wants the Labour in-fighting to stop. "The other thing that I find distressing is this whole thing of right and left. We've got to move on from all of that tribalism now," she said.
"It's got to be about what's right and what's best for Britain, not about inward fighting within parties. I find the whole thing to be a complete waste of energy and resources and it's letting down our country. They've got to get over themselves."
Miller's comments come just days after the House of Lords defied May and voted in favour of the government unilaterally granting residency rights to the more than three million EU nationals in the UK.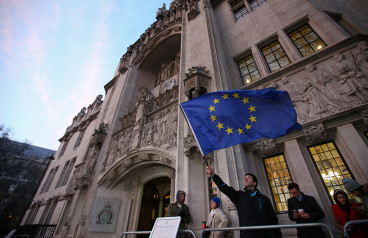 The vote in the upper chamber could create a parliamentary ping-pong with the House of Commons and delay May invoking Article 50. The prime minister has promised to start Brexit talks with the UK's EU partners by the end of March.
Miller urged May to accept the amendment and back another planned amendment: for MPs and peers to have a "meaningful vote" on the final Brexit deal.
The government has promised a vote on the final settlement from Brussels but Miller wants it enshrined in law and for Article 50 to be then triggered since May has ruled out waiting until after the French and German elections.
"Let's get on and trigger it and let's see what [the government's] hand is because if it's full of jokers, then people need to know about that."
Government will provide certainty and clarity to politicians and businesses.
UK will 'control our own laws' by quitting the European Court of Justice.
May will strengthen the 'precious union' between England, Wales, Northern Ireland and Scotland.
There will be no hard border between Northern Ireland and the Republic of Ireland.
UK will 'control' EU immigration, while recruiting the 'brightest and the best' from around the world.
Government will seek a reciprocal residency rights deal for EU and UK workers 'as soon as possible'.
May has promised to protect workers' rights.
Ministers will seek a 'bold' and 'comprehensive' free trade agreement with the EU.
UK will seek a customs agreement so that it can broker its own trade deals with non-EU nations.
May will keep European science and innovation ties in bid to keep the UK a 'world leader'.
UK will continue to work with the EU in bid a bid to combat the threat of terrorism.
Ministers will seek to avoid a 'cliff edge' and seek a smooth split from the EU.