Chelsea or Spurs: Would Willian Consider Either London Club in January?
Shakhtar Donetsk midfielder Willian once again impressed against Chelsea
Brazilian playmaker Willian admitted earlier this month that he had turned down offers from two Premier League teams in Chelsea and Tottenham.
The two London clubs must have hoped to simply move on and forget about the one that got away. Instead both sides have witnessed the incredible talent the midfielder possesses, with Chelsea learning first hand just how good he really is.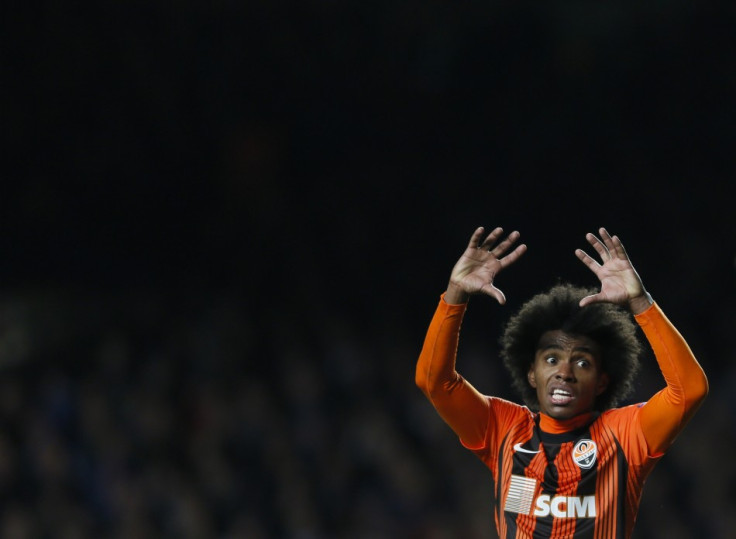 His performances in the two Champions League fixtures against Chelsea have demonstrated the craft and guile that enables him to unlock defences, while his two goals at Stamford Bridge simply rubbed salt into the fresh wound.
Chelsea boss Roberto di Matteo must have been cursing the sight of the 24-year-old before Victor Moses popped up with a last minute winner to leave the holders with a decent chance of making the knockout stages.
Secretly the Italian may well have been have been contemplating whether to continue his pursuit of the midfielder. There is no doubting the talent of his current options, with Juan Mata, Eden Hazard and Oscar providing a frightening front three that seem to interchange with effortless efficiency.
Shakhtar boss Mircea Lucescu was damning in his assessment of Chelsea's bid in the summer which seemed to have been around the region of £12million.
"Willian was far away from Chelsea," said Lucescu. "They didn't even get anywhere near to our requirements, having done nothing to make my promises to Willian come true.
"Speaking specifically about the amounts, they officially offered the sum for which we had bought him young. I would really like them to highly appreciate his true value tomorrow and realise that they made a big mistake."
These words would surely have been ringing in the ears of Di Matteo had his side not managed to grab a late winner. Now his attentions may well lie away from midfield and a focus on improving his striking options may well be on the agenda.
While Chelsea suffered at the hands of Willian, Tottenham have been able to watch on with a similar feeling of regret, but perhaps with renewed hope that they can tempt the Brazil international away from Ukraine.
Tottenham have showed signs this season that they could challenge for Champions League football and will hope that Shakhtar fall short in their bid to qualify for the knockout stages.
The north London club will need to convince Willian that they are able to compete with the biggest clubs in the Premier League, especially after the comments of former Arsenal striker Eduardo da Silva.
"There are three clubs who are big enough and good enough for Willian - Arsenal, Man United and Chelsea," the Shakhtar striker was said to have told his team-mate. "I have recommended these clubs - no others. He needs to play at one of the best teams.
The former Gunners also described how Willian had asked him about life in England and it does appear that he is interested in testing himself in the Premier League.
He is in his sixth season with the Ukrainian champions and may now be considering a switch to one of the top league in Europe. At 24 he has plenty of time on his side but the itch to join an English side may become too much to ignore.
The midfielder has admitted that he is unsure which side he would rather join, saying: "There were two offers in the summer. One from Chelsea and one from Tottenham. Choosing between the two clubs would be difficult. I don't know."
Come January, Willian could well be asked to choose once again. With Chelsea perhaps less likely to make an offer after Oscar and Hazard have excelled, then Villas-Boas may hope to exact some sense of revenge over the club that sacked him last season.
© Copyright IBTimes 2023. All rights reserved.