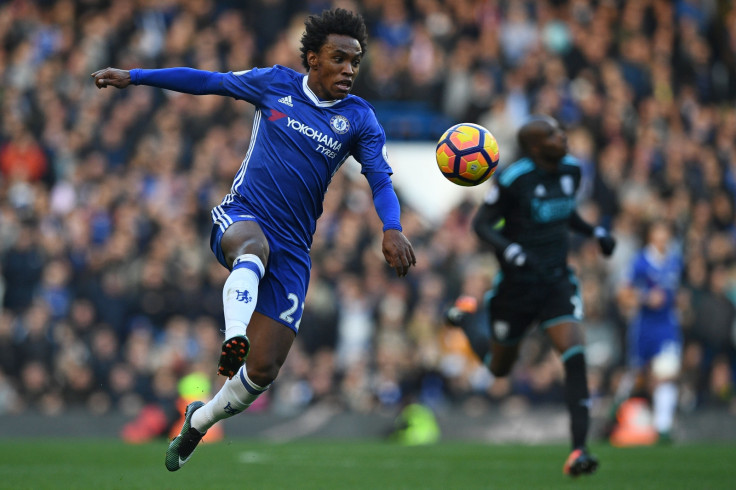 Willian has talked up his fitness and readiness to return to Chelsea's starting eleven, having been overlooked in favour of Pedro for recent games. The Brazilian may be in contention to start against Sunderland on Wednesday night (14 December), amid reports Eden Hazard will miss the game due to injury.
The 28-year-old started the campaign as a regular starter for Antonio Conte on the right-wing, following an impressive 2015-16 campaign where he was named player of the year. The Brazilian also made the team for the 2-0 victory over Hull City, where Conte deployed his 3-4-3 formation for the first time.
However, Willian missed the subsequent win over Leicester City after being granted compassionate leave following his mother's death, and has since lost his place in the line-up to Pedro.
The Brazilian understands the situation as Chelsea have won their last nine Premier League games. However, having made an impact coming from the bench in the recent wins over Manchester City and West Brom, he expects to regain his place into the line-up.
"The manager changed the team because I was in a difficult position. I lost my mum and I had to stay in Brazil for a few days. I missed some games and the team started to win and play well. Pedro came in and he did very well," Willian said, as quoted by Sky Sports. "But the manager talked to me and told me to stay concentrating, to work hard in training and when I come into the game to try to do my best. I feel more fresh and ready to come back in the team."
"He gives me confidence to get back in the team and train hard to play well. I am happy because I came in and helped my team-mates to win that game [against Man City]. Sometimes the game is asking to change some things, to put in another player and change the system. The players on the bench have to be focused because, when you go in, you have to do something different."
Willian may have a chance to return to the line-up at Sunderland afte The Guardian and several other media reported Hazard will miss the game due to an injury sustained during the win over West Brom.
The Belgium international has formed Conte's attack alongside Pedro and Diego Costa in the last eight Premier League games, but Willian could take advantage of the situation to go back into the team at the Stadium of Light.