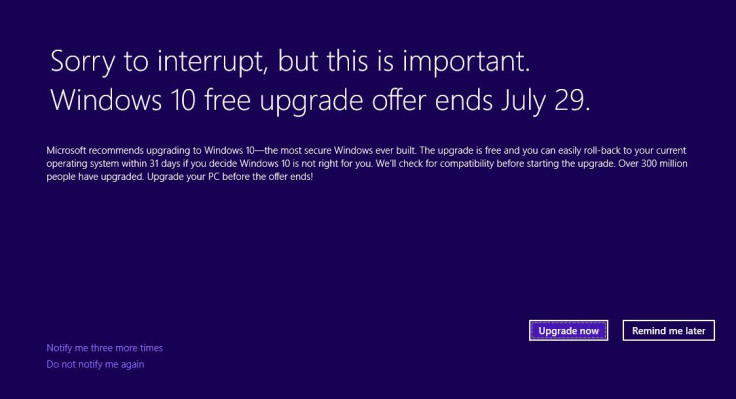 Microsoft has announced its free software upgrade for Windows 10 is available until 29 July. The upgrade was rolled out on the same date in 2015 for Windows users worldwide.
But before the free software upgrade ends, Microsoft is issuing a full-screen notification that would appear on your computer. If you are running Windows 8.1 or Windows 7 with Service Pack 1 (SP1), you will see the above notification saying, "Sorry for interruption, but this is important. Windows 10 free upgrade offer ends July 29."
The notification serves as a free reminder that the Windows 10 free upgrade offer ends on 29 July. You might choose to upgrade directly from the notification, or dismiss the notification permanently or even choose to be reminded later. In addition to that, on the notification screen to the left corner at the bottom you will see two options, one for notifying users three more times for the update and the other asking not to be notified again.
The full screen message appears when you unlock Windows through the end of the upgrade offer, and it reoccurs three days later if you select the option for Remind me later. But the message will not appear in the following conditions:
You have a recent version of the "Get Windows 10" app installed

You have selected the Do not notify me again option

Your computer is detected to be incompatible with Windows 10

You have previously uninstalled Windows 10 after you upgrade

Your Windows 10 installation failed and rolled back

You have hidden the "Get Windows 10" app notifications

You have disabled the Windows 10 upgrade or you have disabled the offer screen through registry key settings
The next major update to Windows 10 dubbed Windows 10 Anniversary Update featuring improvements to Cortana, an even faster Microsoft Edge browser, advanced security features, new gaming experience and new tools for the modern classroom is coming on 2 August.
So if you have not updated your system yet, click here for our guide to perform a clean installation of Windows 10.