Microsoft's Windows Phone Summit takes place today so we've put together a comprehensive round-up of what we think will be announced for Windows Phone 8 - codenamed Apollo.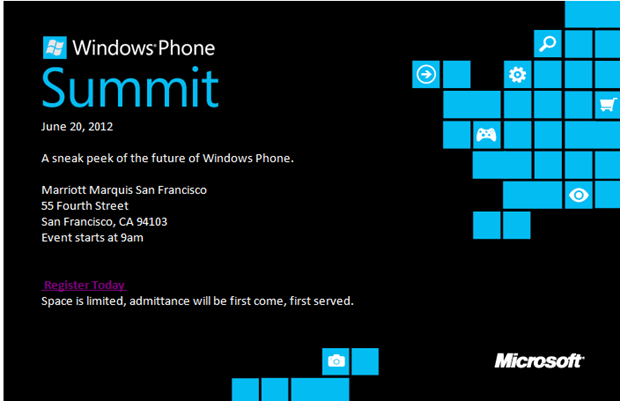 Windows Phone 8 (Apollo) Overview
Multicore processors
Four new screen resolutions
Data Management tools
MicroSD card support
NFC
Windows 8 integration
New Skype application
Microsoft is having a busy week. On Monday it announced the launch of its Surface line of tablets and today in San Francisco, the company will hold its Windows Phone Summit, where we expect to hear a lot about Windows Phone 8, codenamed Apollo.
While Microsoft has said very little on the record about Windows Phone 8, we already have a pretty good idea what the software update will bring. Back in early February, a leaked video which was meant for partners like Nokia, and featuring senior vice president and Windows Phone manager Joe Belfiore, appeared online.
In the video Belfiore revealed a lot of what manufacturers can expect from the next version of Windows Phone. We expect to heard a lot more about it tonight but so far here is what we think Window Phone 8 will bring to the party:
Windows Phone 8: Hardware
The hardware produced by manufacturers for WP7 was less-than-cutting-edge to put it kindly. When the like of HTC, LG and Samsung were launching quad-core smartphones with Full HD resolution screens, Nokia was launching the Lumia 900 (below), a single-core smartphone with a screen resolution of just 480 x 800 pixels.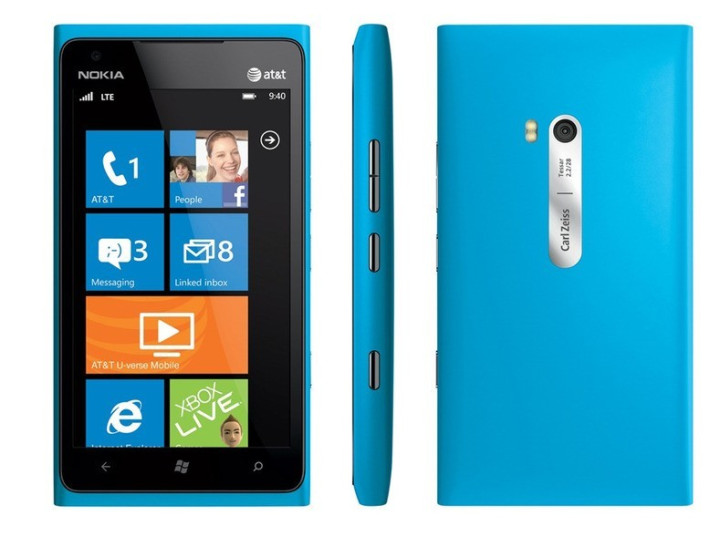 However this was not really Nokia's fault, as Microsoft put very tight restrictions on manufacturers who want to use WP7, supporting only single-core processors and a single screen resolution.
That is all set to change with Windows Phone 8, with support for multi-core processors as well as four different screen resolutions to choose from - though what they will be is still unknown.
The Apollo update will also add support for removable microSD cards and NFC, with Belfiore speaking about the "wallet experience" which can be branded and controlled by each network.
There will also be tap-to-share capabilities which could allow users to share content between phone, tablet, laptop and desktops.
While Apple has succeeded with a VERY limited number of devices, for Windows Phone to succeed as a platform, it will need to appeal at different price points - just like Android - and this loosening of restrictions will be a step in the right direction.
Windows Phone 8: Software
A lot of people seem to be confusing Windows 8 with Windows Phone 8 recently - indeed one 'analyst' comment we received did just that - but the two operating systems are set to have a lot more in common than previously.
As well as sharing the Metro UI with the next-generation desktop and tablet OS, according to Belfiore, Windows Phone 8 will have a lot of the same components as Windows 8.
This will allow developers to "reuse - by far - most of their code" according to Belfiore, when porting an app from the desktop Windows Store to the Windows Phone Marketplace.
Belfiore specifically mentions the kernel, networking stacks, security and multimedia support as elements the two operating systems will share.
There is also good news about Zune, the desktop client used to sync content from your PC to your phone. Microsoft is set to dump the bloated piece of software in favour of a syncing relationship with a dedicated companion application - such as an updated Activesync client.
We also expect to see a lot more integration with Xbox, SkyDrive and of course the new Suface tablets.
Windows Phone 8: Apps
Microsoft is, understandably, lagging behind both Apple and Google in terms of sheer volume of apps available in its Marketplace, but the company is hoping there will be 100,000 apps available in time for the launch of Windows Phone 8.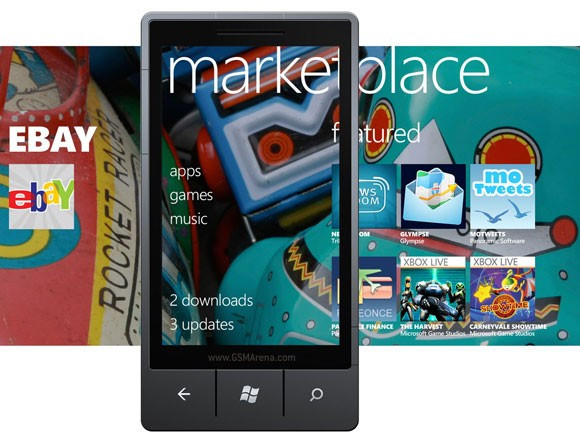 The biggest move forward is the expected support for native code, which will enable more powerful apps as well as making it easier for developers to port code from Android and iOS.
In terms of specific apps, we expect to see a new Skype app unveiled though it seems unlikely that Microsoft will integrate it as deeply as Apple has with Twitter, and most recently in iOS 6, with Facebook.
Windows Phone 8: Data Management & Security
Microsoft will introduce a new feature called DataSmart which will aim to reduce your data usage as well as letting you track where you are using your data allowance.
While data tracking is something Android and iOS already do, Microsoft is going a bit further to help reduce your data usage.
Windows Phone 8 will actively attempt to give Wi-Fi connections precedence, going so far as to automatically connect to network-owned wireless hotspots when in range.
This will integrate with the Local Scout feature in Bing Maps to identify these hotspots.
Microsoft will also update the mobile versions of Internet Explorer with IE10 Mobile set to use a proxy server to feed it pages. This means web pages will be compressed server-side, before being sent to your device - which should speed up web browsing as well as reducing the amount of data needed by a claimed 30 percent.
In terms of security, Microsoft will be looking to become the de facto enterprise platform, now that BlackBerry-maker RIM is teetering on the brink of extinction.
Windows Phone 8 will add native BitLocker encryption, the same 128-bit, full-disk encryption found on Microsoft's most recent desktop platforms
Companies will also be allowed to deploy custom applications behind their firewalls making the Apollo update more flexible and therefore more appealing than iOS.
Windows Phone 8: Updates and Availability
One of the most interesting announcements made today could be news on whether current generation WP7 phones, like the Lumia range from Nokia, will be upgraded to WP8.
Persistent rumours are suggesting this will not happen, though we can't imagine Microsoft telling the world yet, as it would see WP7 smartphone sales fall off the cliff.
While it is almost certain that current Windows Phone apps will work with WP8 - despite the change to a desktop kernel - should Microsoft make the Apollo update unavailable to current generation smartphones, there could be a major backlash.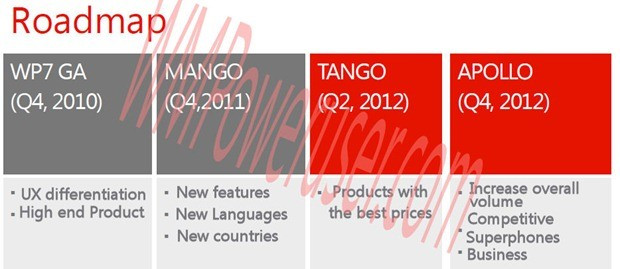 In terms of availability, all reports point to a Q4 release for Windows Phone 8, and Nokia World in September could be an ideal place to launch the first WP8 smartphones we think, with availability in-store in time for the Christmas market.
Windows Phone 8: Live Stream
We will be covering the Windows Phone Summit live at IBTimes UK, but if you want to watch it yourself, Microsoft will be streaming the event live here from 9am local time in San Francisco, which is 5pm GMT.