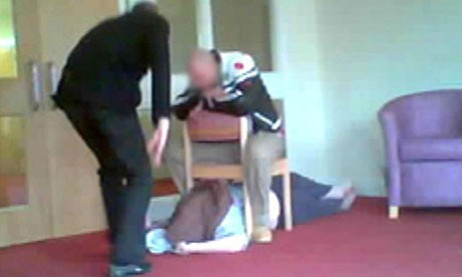 Six of the 11 members of staff who were filmed abusing vulnerable patients at Winterbourne View private home have been sentenced to jail.
Five others were given suspended sentences after a BBC Panorama undercover investigation filmed the workers abusing patients by pinning them down, hitting them, taunting them and pulling their hair.
Judge Neil Ford QC said there had been a "culture of ill-treatment" at the care home at Hambrook, South Gloucestershire where "cruelty bred cruelty".
Ringleader Wayne Rogers, 32, was found guilty of nine counts of abuse and sentenced to two years in prison at Bristol crown court. The other workers sentenced to jail were Alison Dove, 25 and Graham Doyle, 26, who both received 20 months; Holly Draper, 24, who received 12 months; and Sookalingum Appoo, 59, and Kelvin Fore, 33, who were each given six-month sentences.
The five workers given suspended sentences were Danny Brake, 27, Jason Gardiner, 43, Michael Ezenagu, 29, Charlotte Cotterell, 21, and 27-year-old Neil Ferguson.
Judge Ford said if the abuse had not been uncovered by the undercover report, the 11 offenders would have continued to show "a scandalous lack of regard" towards their patients.
He added: "Many of the residents were extremely difficult to manage and in the absence of highly skilled carers were subjected to a miserable existence in which they were inappropriately restrained and punished."
The court was played hours of undercover footage of the support workers abusing their patients, including clips of Rogers threatening to bite the face of one patient and asking another "do you want me to get a cheese grater and grate your face off?"
Families of the victims gathered outside the court after sentencing to pay tribute to the BBC for exposing the abuse.
A statement read out on their behalf said: "The police have shown their willingness to adapt and learn.
"However we are all aware that without the showing of the Panorama undercover filming we would not be standing here.
"In the 21st century places like Winterbourne View should not exist - they should be closed and local homes opened.
"Our children have suffered greatly and it will take a long time for their mental and physical health to recover - some of them may never fully recover."
Detective Chief Superintendent Louisa Rolfe, Head of CID with Avon and Somerset Police said: "There are no words to describe the horrific, vindictive treatment these offenders meted out to the vulnerable young adults of Winterbourne View.
"They and their loved ones should have felt safe and secure in the knowledge they were being well cared for. Instead these vulnerable young people were subjected to the most extreme and persistent abuse."