Wipeout University Tour 'appears to be a scam' to obtain students' details
Wipeout University Tour 'scam to obtain students' details'

Thousands of people who signed up to take part in a Wipeout event at their university via Facebook will be disappointed to discover the events may never take place and that their expressions of interest may have allegedly provided a club night promoter with their personal details.
Over the past few weeks, dozens of Facebook events detailing a planned Wipeout University Tour in cities across the UK have cropped up, with tens of thousands of people expressing an interest.
The events, based on the popular BBC TV programme hosted by Richard Hammond and Amanda Byram, promised an obstacle course of "inflatables and plenty of prizes to a club near you for the craziest student event you've ever seen".
Facebook advertised all the events – more than 50 in all – to take place between 2 and 3 October and asked people to register their interest by filling in a form that asks for their name, email address, phone number and which university they attend.
However, the likelihood of these events taking place started to look increasingly unlikely, with several universities already confirming no such plans are taking place. The University of York also warned students the page "appears to be a scam".
In some cases, the Wipeout University Tour events pages eventually changed to University Tour UK and removed all mention of previous plans. However, people's posts on the page asking for information about the Wipeout tour can still be seen on the updated pages.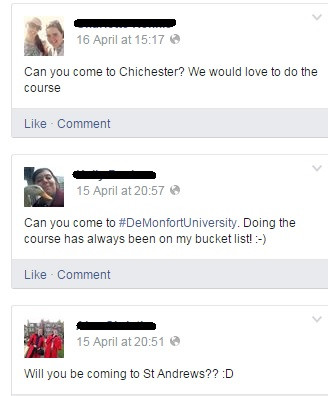 Users discussing the Wipeout tour on the updated Facebook pages
Facebook/University Tour UK
After the Wipeout pages changed, it offers those who have "liked" the page the chance to win a freshers' giveaway, featuring a Macbook Pro, £1,000 and an iPhone 6. In order to win the prize, users must say they are attending a "Freshers' Paint Party" at one of more than 30 cities, as well as invite 25 friends to do so.
Robert Smith, from online satirical news broadcast group Get Current, found the people behind the Wipeout Tour also appeared to be behind a similar scheme to bring Radio 1's Big Weekend to cities, with several different Facebook events popping up urging people to register their details to show interest.
These were soon removed after the BBC confirmed it was not involved in the project and was "looking into getting them removed".
There are also other Facebook pages such as No More Student Tuition Fees, I'm Going to University 2015 and one for the Open Air Cinema events listing across the country, all of which appear to be run by Cardiff-based company Electric Ents.
Both the I'm Going to University 2015 and the No More Student Tuition Fees pages advertise the same Freshers' Paint Party as the Wipeout Pages and also previously asked people to register their interest using a similar sign-up system used by the same user named christianunicribs.
Website University Cribs, which also asks people to submit their personal details online, is registered at the same address as Volt Marketing Ltd.
Christian Samuel, is listed as a managing director of Volt Marketing Ltd, as well as being behind Electric Ents and director of Open Air Cinema.
There were also fears the Open Air Cinema events may have been a data mining scam, a claim denied by Samuel. The company has since confirmed events are scheduled to be taking place at at least two venues in the UK this summer.
IBTimes UK has previously written about how another event called Outdoor Cinema may be posing as a legitimate company in order to mine people's data – an allegation it denied.
While there does not appear to be any link between the two cinema events, they did operate in the same way – listing dozens of events across the country with little or no information and no confirmed venues.
Electric Ents did not return a request from IBTimes UK. Samuel also deleted his Twitter account after a request was made via the social media site.