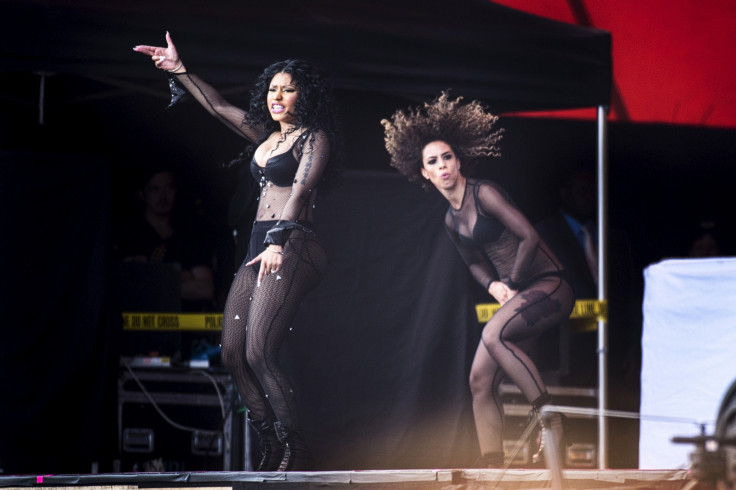 Fans were left disappointed when rapper Nicki Minaj missed her entire set at London's Wireless Festival 2015 after turning up more than two hours late.
The Anaconda hitmaker had been due to be on stage at Finsbury Park on 5 July at 7pm but was still making her way to the capital from Luton Airport at the time she was due to perform.
Festival organisers informed the huge audience of the delay via the big screens on the main stage, with a message which read: "You are expecting Nicki Minaj to be taking the stage at this moment, but we have a little problem.
"We are told that she was due to be speeding down the M1 from Luton Airport as we speak but we have lost contact with her, we are hoping she will be here soon."
It was then announced that the 32-year-old would instead join DJ David Guetta on stage during his headline set after 8:30pm but the rapper did not arrive until just before 9:30pm.
The French music producer had been due to close the weekend but he kindly handed the last 30 minutes over to Minaj so that she could perform a quick set filled with her biggest hits including, Anaconda, Moment For Life and Super Bass.
The Young Money star offered no apology for her poor punctuality and many ticket-holders on social media have either expressed their anger or demanded a refund.
It is believed Minaj had been flying in from Denmark after performing at the Roskilde Festival on 4 July but it is not known what caused her lateness the following day.
Earlier in the day, singer Jessie J is also said to have been late for her scheduled performance, arriving nearly 30 minutes late.
US rapper Drake headlined the main stage on Friday 3 July while DJ Avicii closed the show on Saturday 4 July.