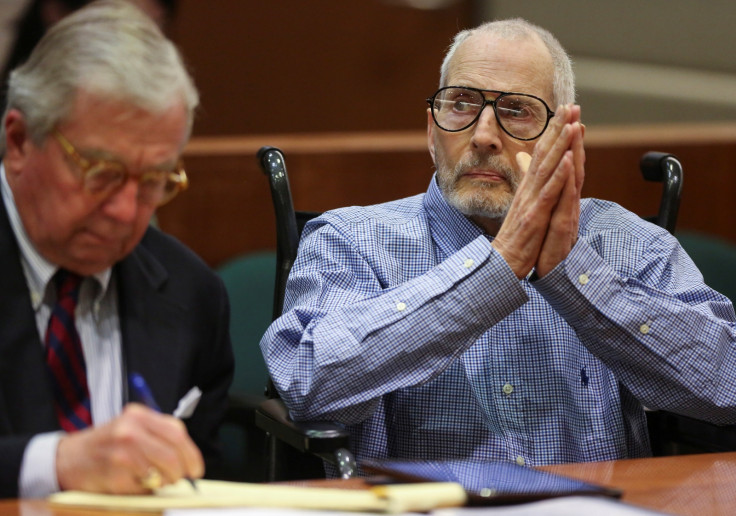 A 35-year-old phone call believed to be the last made by Kathie Durst became the focus of Robert Durst's murder case on Tuesday (14 February). The call took centre stage a day before a secret witness is expected to take the stand in the case of the New York real estate scion.
The call was allegedly made by Kathie Durst to Dr Albert Kuperman, the former dean of Albert Einstein College of Medicine, where she was a student at the time of her disappearance. Though it was previously believed to be the last time anyone heard from Kathie, prosecutors are arguing that she may not have made the call.
Prosecutors claim that 73-year-old Durst murdered his wife and, 20 years later, murdered his best friend, Susan Berman, for knowing too much about the killing. NBC News reported that Durst, the subject of the HBO series The Jinx, is charged only with Berman's murder.
The prosecution called on three witnesses who say they fear Durst may hurt them. Kuperman, 85, was called to the stand first, according to CBS News.
The former university dean testified that a woman identifying herself as Kathleen Durst called him on 1 February 1982 to report she was ill with "gastrointestinal distress" and could not come in to her first day of a clerkship in paediatrics.
Kuperman told Durst's lawyer, Dick DeGuerin, that for 30 years he "had no reason not to believe it was Kathie who called me". He later testified that, after meeting with Deputy District Attorney John Lewin and investigators in 2015, he began to have his doubts.
Though it was considered to be Kathie's last phone call, Lewin suggested that someone else made the call. As Lewin interrogated Durst, Durst told him that the makers of The Jinx believed Berman actually made the call. Durst disputed that belief during his interrogation following his arrest in New Orleans two years ago.
Berman, who attended the University of California, Los Angeles with Durst, acted as his unofficial spokeswoman after his wife's disappearance, CBS News reported. Durst has denied killing both his wife and Berman. He pleaded not guilty to one count of first-degree murder in the shooting of Berman at her Los Angeles home on Christmas Eve 2000.
One of the witnesses expected to give evidence has remained unnamed. According to The Los Angeles Times, the witness, who is known to be a man, will take the stand on Wednesday (15 February). Prosecutors claim to have evidence that there is a "possible danger" to him, and hope to preserve his testimony in case he dies or is killed.
A preliminary hearing in the case is scheduled for October, which means Durst is not likely to stand trial until at least 2018.