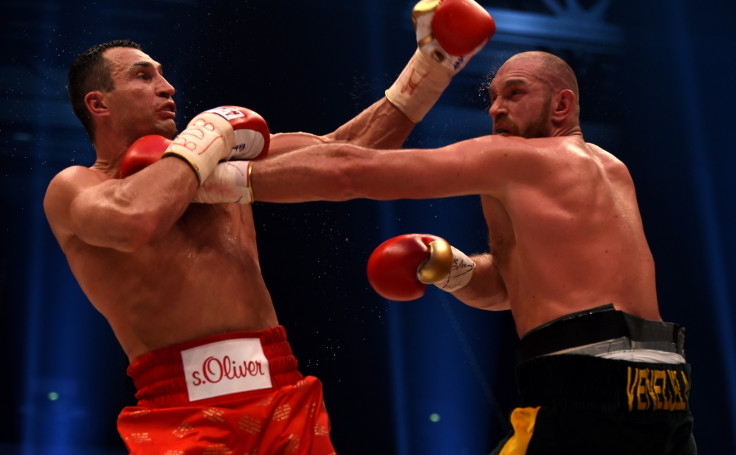 Wladimir Kitschko insists defeat to Tyson Fury means he is better prepared than ever for the challenge of facing fellow-Briton Anthony Joshua in 2017. The Ukrainian was defeated for the first time in 11 years when he lost on points to the Bolton fighter and will be 18 months removed from his last outing when he faces the current IBF heavyweight champion at Wembley Stadium next April.
The former two-time world champion had an indomitable grip on the sport for over a decade before being defeated by Fury in Dusseldorf in November 2015, but will have spent over a year away from competitive boxing by the time he takes on Joshua in the New Year. Klitschko produced a lacklustre display in losing to Fury, who went on to withdraw from two scheduled rematches between the two before vacating his heavyweight belts.
Klitschko, who will be 41 when he faces the 27-year-old Joshua in London, admits he had lost motivation during the years prior to losing to Fury but that his loss in Germany could just be the topic to reignite his career.
"It woke me up," the former IBF, WBA and IBO champion admitted. "I prefer to go into this fight with AJ with experience and motivation that I got from Fury – failure, in that fight. I realise after so many years that actually I was not as motivated. When you have to change things and do more to win, and not just wait for when the opponent's going to get tired, I think it's all in all, was good that I lost this fight. It maybe sounds a little crazy.
"Not good, but I prefer to go into the fight with AJ because it's going to be a real challenge for me. He's extremely athletic, determined. He has the qualities, he has the size, he has the weight, he has the experience in amateur sport and as a professional. I think it's definitely a good thing that I'm going into this fight as underdog."
The 18 months Klitschko will have spent out of the ring represents the longest time between bouts during a career which has spanned a three decades. Brother Vitali took nearly four years out of the sport at one time during his 47-fight career and Klitschko junior is confident he can overcome any rustiness.
"This is the first time I'm going through such a long break in a quarter of a century, It sounds like I'm really old but I don't feel this way," the Olympic champion from Atlanta 1996 insisted. "I heard from my brother that a four-and-a-half-year break was good for him when he came back and fought for the title again. It's something that I'm going through right now. Does it feel good? I think so. It's a good time to recoup.
"I was not sitting back and doing nothing, drinking beer. I was preparing and getting ready for fights that never happened. I definitely learned a lot, even if I was preparing for an opponent that was taller – and southpaw, with a regular stance. What I learned I will carry over for the next preparation and the fight with Anthony. It's good, even if it's negative in some way. Emanuel used to call them seasoned fighters, which Antony is. He's been busy. That's a good thing. Is it that negative? I don't think so."